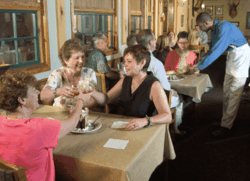 Independent Restaurants can take advantage of the increased December holiday traffic to build business for the New Year.
Greenville, SC (PRWEB) November 30, 2011
Despite the lengthy recession, the economy, at least, for the December holiday season is surging. This past Black Friday saw overall gains of up to 20% over the same day for last year. Independent restaurateurs are enjoying and are excited about the possibilities about one of the better holiday seasons in a number of years.
On the other hand, these same Independent Restaurateurs are expecting and reconciled for a business slow down in January. "What can we possibly do for our restaurant marketing? It's always slow for restaurants in January," they lament.
Restaurant Marketing Coach and author of "The 5 Hour Restaurant Work Week: Work Less, Make More and Have a Life, too," Edmund Woo, says, "Though traditionally restaurants experience a slow down in January, Independent Restaurateurs can capitalize from the increased traffic of the December holiday business to build their business for the new year by implementing three restaurant marketing ideas as part of their restaurant marketing plan."
The three restaurant marketing tips are:
1. Capture pertinent contact information of every December holiday customer. Obtaining the restaurant's customers' names, emails, phone number, address, birthdays, anniversaries, etc., will give the Independent Restaurant marketing opportunities for the New Year.
2. Another restaurant marketing tip is for Independent restaurants to give "bouncebacks", offers for specials or complimentary promotional incentives such as appetizers for the table, desserts, etc. to motivate and entice customers to visit again in the New Year.
3. Finally, Independent Restaurateurs should take advantage of the increased December holiday traffic by focusing on providing a great customer experience for each guest. Edmund says, "Too often, Independent Restaurateurs are not ready for the increased December holiday traffic and if not staffed appropriately, will give bad service. Instead, a powerful restaurant marketing idea would be to forecast and be ready for the increased traffic so they can provide a great customer experience that will generate positive word of mouth restaurant marketing."
Edmund concludes, "If an Independent Restaurateur implements one or even better, all of these restaurant marketing ideas, he will springboard from the busy December holiday season into a better New Year!"
Edmund Woo's mission is to educate Independent Restaurateurs that they can work less, make more and have a life, too in the restaurant business. He dispenses free business-building advice for independent restaurateurs through his online blog, http://5hourrestaurantmarketing.com. The free service details Edmund Woo's researched and refined restaurant marketing plan proven to get new restaurant customers. Edmund Woo's blog is becoming a weekly diet to help independent restaurateurs avoid starvation and cultivate growth.
Besides his restaurant specific marketing blog, Edmund Woo offers a free audio report called, "New, Easy to Use Ideas to Fill Your Tables...Even in Today's Fierce Restaurant Environment," a glimpse of what his 5 Hour Restaurant Work Week System offers at http://www.independentrestaurantmarketing.net
Edmund is available for interviews at: 864 363 6644
###