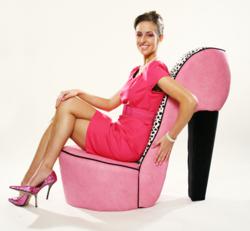 Joseph Saunders is a hero of mine and I was thrilled to have the opportunity to interview him and talk about what the technology company is working on now, said Jesse Draper, Host and Producer of the "Valley Girl Show."
San Francisco, California (PRWEB) November 30, 2011
Jesse Draper, host and producer of The "Valley Girl Show," sits down with Joseph Saunders, Chairman and Chief Executive Officer of Visa, to talk about why Visa is not a credit card company but a payments company.
"Joseph Saunders is a hero of mine and I was thrilled to have the opportunity to interview him and talk about what the technology company is working on now," said Jesse Draper, Host and Producer of the "Valley Girl Show." "What I learned and I hope my viewers will too, is that at the end of the day Visa is a global payment technology company that enables consumers, businesses, banks and governments to connect by using digital currency."
In the new episode launching today, Joseph talks with Jesse about taking the company public and having the largest IPO in history. He shares how succeeding in business is a combination of being prepared and having a little bit of luck and he chats about his favorite job, the future of money, Visa's Pay Wave and Visa's Digital Wallet. One of Joseph's strongest messages during the episode is his belief that everyone has the right to privacy. At the end of the episode, Jesse and Joseph head to the Starbuck's machine at Visa to practice using Visa's new Pay Wave, which launches in January.
The "Valley Girl Show," which can be compared to a business-oriented version of the "Ellen DeGeneres Show," kicked off its fourth season on November 15 with more than 50 new episodes. The witty, entertaining and informative new media web-based talk show features the world's most influential CEOs and entrepreneurs in a fun and digestible twist to standard "business talk." In the next few weeks Jesse interviews some of the biggest names in business and finance tech including Danny Shader (Paynearme), Jessica Mah (Indinero) and Tomas Sedlacek (The Economics of Good and Evil). Other upcoming interviews include Facebook's Sheryl Sandberg, Sandra Day O'Connor and more!
###