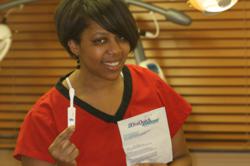 Early signs and symptoms of HIV oftentimes appears in the mouth first, so dentists have a unique opportunity to play a significant role in detecting HIV and championing rapid HIV testing
New York, New York (PRWEB) November 30, 2011
VIP Smiles owned by celebrity dentist Dr. Catrise Austin, announced today the availability of free rapid HIV testing with OraQuick ADVANCE® Rapid HIV-1/2 Antibody Test in their Manhattan office. In recognition of Worlds AIDS Day on December 1st, VIP Smiles will be offering free HIV testing for the general public by appointment from December 1- 15th, 2011. VIP Smiles is the first private practice in the nation certified and trained to offer the test, which can be administered orally during regular dental exams and delivers results in just 20 minutes. Since July 2009, VIP Smiles has screened hundreds of their own dental patients for the HIV virus and believes that HIV Testing in the dental office should become the standard of care.
"Early signs and symptoms of HIV oftentimes appears in the mouth first, so dentists have a unique opportunity to play a significant role in detecting HIV and championing rapid HIV testing," said Dr. Austin. "We're proud to be the first private practice to offer the OraQuick ADVANCE® test, and we've partnered with the New York State Department of Health to generate awareness and promote its benefits."
According to the Centers for Disease Control and Prevention, more than 1.1 million people in the United States are infected with HIV and 232,700 don't know it. To combat the spread of HIV, and generate awareness of the importance of being tested and knowing one's status, medical professionals have begun implementing innovative new ways like the dental clinics, dental schools, and now private dental offices to make HIV more accessible and convenient.
The OraQuick ADVANCE® Rapid HIV-1/2 Antibody Test, now used in a growing number of dental practices throughout the United States, is the only rapid HIV test to be approved by the FDA for use with oral fluid. To administer the test, the dentist swabs the outer gums with the device and then inserts it into a vial containing a developer solution. The procedure is fast and painless, and delivers accurate results within 20 minutes. In the clinical studies by the manufacturer, the test correctly identified 99.3 percent of people who were infected with HIV-1 and 99.9 percent of people who were not infected with HIV-1.
Dr. Catrise Austin's trailblazing work and dedication has not gone unnoticed. On June 9th, 2011 Dr. Austin was honored in New York City by the National Black Leadership Commission On AIDS, Inc at the Choose Life Awards. She also was recognized by Nation to Nation Networking Ltd. at their Fourth Annual International Diaspora Award Dinner Gala on October 13, 2011. Dr. Austin says "I'm extremely honored to be recognized as an emerging leader in the fight against HIV/AIDS. It's been 30 years since we first learned about this epidemic and unfortunately the statistics for infection are not improving tremendously. My goal as a dentist is to recruit more private practice dentists nationwide to start testing and introduce the dental office as another option for patients to feel comfortable getting tested routinely twice a year. On December 23rd 2009, I detected my first preliminary positive HIV screening results in my dental practice by using the OraQuick ADVANCE® Rapid HIV-1/2 Antibody Test. I realized at that moment how real this epidemic is and how necessary HIV testing is to stop the spread of the HIV virus."
Dr. Austin now speaks professionally to medical professionals, dentists, and organizations across the country on the importance of HIV testing and how to recognize oral signs and symptoms of HIV. In 2012, her goal is to speak more publically about the importance of getting tested and knowing your status and hopes to meet her personal challenge of screening a minimum of 1000 patients at her private practice. To kick start this challenge, Dr. Catrise Austin will be offering free HIV testing at her private practice VIP Smiles in New York City by appointment only from Dec1st – Dec 15th, 2011. For a free HIV screening, contact VIP Smiles at 212-262-6054.
###