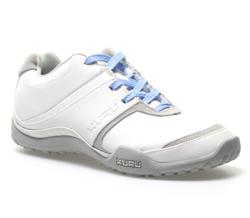 I can wear these shoes all day long. I love, love, love them
Salt Lake City, UT (PRWEB) November 30, 2011
Kuru Footwear has quickly become a leading innovator of anatomical active footwear. They gained this leading position through unique technologies and clever insights into the needs of their customers. This has positioned them as the perfect, must-have walking shoe this Holiday season.
One of the latest examples of Kuru's industry-leading innovation is the recently launched Insight walking shoe. This shoe started as an evolution of the brand's trail and travel shoes. The clean, multi-function design of this walking shoe is designed for casual, all-day walking. While the uppers are specially selected to improve performance while maintaining a casual versatility for other activities.
The best validation is from those who have purchased Kuru walking shoes. Wendy, a recent customer said "this [Insight] shoe is fantastic. I can wear these shoes all day long. I even hiked in them. I love, love, love them".
At the very foundation of Kuru shoes is the midsole technology found in every pair. According to Kuru, this technology sprang forth from the core belief that nature evolved the human foot to perfectly cushion the body.
Other walking shoes are flat inside. What makes Kuru walking shoes different is its patent-pending KuruSole™ midsole. According to the company, this technology dynamically cradles the fat pad, keeping it under the heel bone as nature intended.
Combined with reinforced arch support, Kuru walking shoes create unparalleled support that custom molds to the unique shapes of the foot. Kuru believes that customers will love how the walking shoes offer a custom fit.
Given the time of year and Christmas shopping lists, Kuru believes the Insight walking shoe will be a hot-seller.
The exclusive features of Kuru walking shoes can be found at http://www.kurufootwear.com/experts-corner/best-walking-shoes.html
About KURU Walking Shoes:
KURU Footwear is a social-web driven footwear brand. Their innovative footwear can only be purchased in one place--exclusively via their website at http://www.kurufootwear.com. The product is based on the concept of, "If your feet aren't flat, then why are your shoes?" Unlike anything else in footwear, the KuruSole™ technology features the patent-pending HeelKradl™ orthotic molded directly into the footbed. This unique orthotic magically flexes inward with every step. This flexing motion cups your heels for phenomenal support and comfort.
###