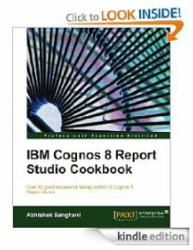 UK (PRWEB) November 30, 2011
Birmingham: Packt Publishing, one of the world's leading publishers of books and eBooks for IT Professionals, is pleased to announce that the bestselling IBM Cognos 8 Report Studio Cookbook is available on Amazon's Kindle platform.
Cognos Report Studio is widely used for creating and managing business reports in medium to large companies. It is simple enough for any business analyst, power user, or developer to pick up and start developing basic reports. However, when it comes to developing more sophisticated, fully functional business reports for wider audiences, report authors will need guidance.
In 2010, Packt published the Cognos 8 Report Studio Cookbook. It is a book which covers the basic and advanced features of Report Authoring, and shows readers the fundamental features useful across any level of reporting. Then it ascends to advanced techniques and tricks to overcome Studio limitations. Readers will be able to evelop excellent reports using dimensional data sources by following best practices that development work requires in Report Studio. Readers will also learn about editing the report outside the Studio by directly editing the XML specifications.
Packt Publishing has also developed and is due to publish other Cognos titles.

IBM Cognos 8 Planning (published)
IBM Cognos TM1 Cookbook (Due Dec 2011)
IBM Cognos TM1 Developers Certification guide (Due 2012)
All Cognos books are Published by Packt Enterprise. Packt Enterprise is a publishing division of Packt Publishing designed to serve the information needs of IT Professionals in the Enterprise space. Enterprise also publishes on Microsoft, IBM, Oracle, Citrix, Java, Amazon, Google and SAP technologies.
# # #