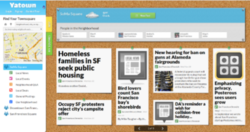 Users can organize Neighborhood Watch groups with two clicks, without having to know any email addresses.
Palo Alto, CA (PRWEB) November 30, 2011
Neighborhood-Network startup Yatown announced today it is launching "Online Town Squares", responding to user requests to help organize their neighborhoods across the U.S. To get your neighborhood's Town Square covered earlier, tell Yatown at http://yatown.com/forms/add-my-neighborhood/.
"We're really excited to finally unveil this user-friendly service, after several months of listening to our beta users," says Christopher Nguyen, CEO of Yatown. He added, "Since our beta launch, users have been asking us to help them connect with neighbors, to organize their neighborhoods. Town Squares are the perfect way to meet those needs."
Indeed, for those users lucky enough to have their neighborhoods already covered, Yatown's Squares provide a bold, bulletin-board style interface that offers both useful local information as well as organizing tools. Users can create their own "Squares", be it "Neighborhood Watch" or "Carpool", and invite others to join them at these Squares. "'Neighborhood Watch' is the overwhelming #1 request when we asked our users what groups feature they wanted," Nguyen said. "Users can reach their neighbors to organize Neighborhood Watch groups with two clicks, without having to know any email addresses."
Another particularly useful feature called "Neighborhood Q&A" allows users to ask questions, and easily reach neighbors through Yatown without having to know their email contact addresses. Yatown says it can already reach a significant percentage of neighbors in the US this way.
"A lot of the data services we run on the backend are pretty demanding, so we need to roll this out over time across 193,000 neighborhoods in the US as we add capacity," says Jerome Park, Head of Engineering at Yatown. "Initially, we'll support the neighborhoods of our current users who have already been asking for these services."
The rest of the neighborhoods will be enabled over a 3-to-6 month period based on an internal schedule or on demand, according to Yatown CEO Nguyen. "New users can go to http://yatown.com/forms/add-my-neighborhood to request to 'jump the queue' if they can't wait."
Yatown, which bills itself as "The Trusted Neighborhood Network", was founded in 2010. With the mission "To Connect Neighbors and Strengthen Communities," the company aims to help neighbors connect and share information online, with an emphasis on trust and social responsibility. Unlike Facebook, LinkedIn, Google+, and other social networking sites, the service focusses on the hyperlocal neighborhood space.
Christopher Nguyen, co-founder and CEO, is a former Engineering Director at Google. Jerome Park, co-founder and Head of Engineering, built and led the Enterprise Appliance Partner team at Google. To sign up for the company's neighborhood networking service, go to http://yatown.com.
# # #