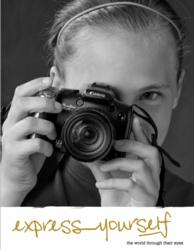 Express Yourself is to inspire special people to begin the discovery process of finding and using their gifts, passions, and talents to enhance their lives and the lives of others." –Thomas Balsamo
Barrington, IL (PRWEB) November 30, 2011
Thomas Balsamo is a nationally recognized portrait photographer, and has photographed countless special needs children through the years. He has learned that each and every one of them has a voice a perspective on life that is valuable and interesting. He created Express Yourself to give these special children an opportunity to show the world how they see from their unique perspective.
"Everyone on the planet has something to contribute. We all have gifts, talents, passions, and the ability to affect others — although some of us communicate differently than the rest of us. Express Yourself is to inspire special people to begin the discovery process of finding and using their gifts, passions, and talents to enhance their lives and the lives of others." –Thomas Balsamo
For the book, Thomas taught 28 special needs children the basics of photography, then sent them out to do a photo assignment: Photograph something that makes you laugh, something that makes you cry, something you love, something beautiful, and something you can't live without. Mentored by a team of professional photographers as "Photo Buddies", the 28 budding photographers were able to surmount the technical challenges of digital photography and express their unique vision.
The results of this assignment and comments from each of the participants became the book Express Yourself, and for the opening reception, an exhibit of the final prints were produced by the printers at Parrot Digigraphic, continuing a long collaboration between photographer and printmaker.
"We were delighted when our long-time friend approached us to help with this project…" said John Lorusso, for Parrot Digigraphic, who prepared the exhibit prints for the opening reception. "Thomas is an inspiration through his work and his belief in the power of photography as a way to heal, help and express the uniqueness of each individual. We are proud to have made a contribution."
Photographer and "Photo Buddy" Sally Roeckell adds: "I was honored to be one of the photographers asked to be a 'Photo Buddy'- essentially a mentor for a small group of participants to help, guide and instruct. My favorite part was that the kids were seated at a long table at the reception for a book signing, and delighted in putting their signature on their image in the book.
"The pride on their faces and their exuberance was humbling. I wish we could bottle it for the days that we forget to find beauty in what we see."
To order Express Yourself, the world through their eyes, go to http://booksthattouch.com/Express_Yourself.html
The book is $25, and 100% of the profits of the first 300 copies go directly to Barrington Area Special Voices (20%, after that point.)
For more information on the Barrington Area Special Voices organization, see this link: http://basv.info
Parrot Digigraphic LTD, who provided the printing services for the exhibit prints hosted at the opening reception, is a full-service Fine Art digital services provider, including large-format digital scanning and fine Giclée printmaking. Parrot also provides a full line of digital imaging products, as well as training and consulting. For more information, see http://www.parrotcolor.com.
Other major sponsors included Michael Miller, Greg Tehle DDS Ltd and Zina Jaque, joined by dozens of supporters, the team of ten professional photographer "Photo Buddies", and the Express Yourself Committee: Jeanine Stark, Bob Lee, Sheri Valskis and Andy Valskis.
About Thomas Balsamo:
Thomas Balsamo's work was featured on CNN, CBS, WGN and WLS television, has been published in Professional Photographer, RangeFinder, Time, Quintessential Barrington and Parent magazines to name a few, and is on display nationally and internationally.
He is sought after to teach seminars revealing his unique and special approach to portraiture. He has been involved in numerous philanthropic projects he is co-creator and photographer of the book Souls: Beneath and Beyond Autism which was awarded The Autism Society of America's "Literary Work of the Year" for 2003. Since 2007 every April Thomas has partnered with Toys R Us, the Faces of Autism campaign to benefit Autism Speaks.
Thomas' images of Autistic individuals have been have been displayed in 800 Toys R Us and Babies R Us stores, across the country, to date raise 4.5 million dollars have been raised.
Learn more at http://www.thomasbalsamo.com
Contact information:
PORTRAITS BY THOMAS BALSAMO
25920 Tara Drive
Barrington, Illinois 60010
847-487-7710
thomas(at)portraitsbythomas(dot)com
###