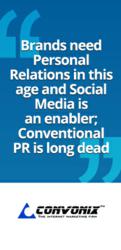 Social Media Marketing is very unlike normal marketing. It is a channel through which you can reach out to users and make each customer feel important.
- Vishal Sampat, CEO, Convonix.
Mumbai, Maharashtra (PRWEB) November 30, 2011
With more and more businesses getting serious about Social Media, the Marcus Evans conference on social media provided an intellectual stimulus many brand managers. This event, held from 16th-18th November at the Renaissance, was attended by the marketing heads and brand managers of established brands like HUL, LBMW, Levi's, Lenovo & HDFC.
Internet marketing major, Convonix launched its proprietary online tracking tool, "IristrackTM which is a unique, single window online brand monitoring platform. Participants were offered a first-hand demo at the stalls set up by the Convonix Technology team.
The highlight of the conference was a detailed case study on social media marketing by representatives of Convonix. Titled "The Evolution of Social Media : Relevance. Maturity. RoI" it set the tone of the meeting by discussing the evolution of social media as a platform. Rajat Kathpalia, head of the Social media team at Convonix, gave an impressive presentation on how social media branding is needed across a wide range of brands and the return-on-investment in it. It included useful tips on how to design an effective social media strategy as a part of one's internet marketing initiatives.
Marketing heads from brands like Lenovo, CCD & HUL got an opportunity to talk about their social media experiences, and how they were able to leverage its reach and appeal among the target audience. Lenovo spoke about a new concept of creating an "ecosystem" on social media, where its customers can help each other, thus nurturing its brand value automatically. HUL talked about the runaway success of its AXE campaign and lent credence to the fact that social media optimization is the new "frontier" for brand managers to overcome.
Vishal Sampat, the CEO of Convonix, engaged in an interaction with the audience, and stressed upon the fact that social media marketing is very unlike normal marketing. He spoke about how it involves the process of "listening more to your users" and how a brand needs specialist digital marketing firms like Convonix for establishing a strong online presence.
Brand managers aggressively networked throughout the luncheon, and must have surely generated a handful of sales' leads. Being a Gold sponsor for the event, the Convonix team sought to resolve the queries of everyone by answering questions on an individual basis.
The event closed with a presentation by Conde Nast on how they – a luxury lifestyle brand has been using Social Media. With brands waking up to a new "social reality" your Facebook or Twitter page has become a potent medium for you to express your opinion & get "heard" and helping brands to improve overall customer experience.
###