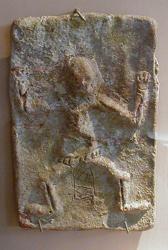 As interest in the Maya and 2012 continues to grow, we expect that new information will come to light, but the news from Comalcalco is earth-shattering and completely unexpected.
(PRWEB) November 30, 2011
After years of hosting legitimate archaeological research within its 365 acre nature reserve and through its Natural History Centre, Chaa Creek Maya research coordinators said they are astounded by the revelations surrounding news of the so-called Comalcalco brick discovered in Mexico.
Some of the startling finds could indicate an ancient Roman presence in the region thousands of years before Columbus's arrival, according to researchers at the Comalcalco archaeological site.
"When we first heard news that another ancient Maya reference to 2012 had been discovered by the Mexican National Institute of Anthropology and History, we began searching for every bit of information we could find, but with the careful skepticism you apply to anything associated with 2012," Chaa Creek's Maya Tunkul project coordinator Larry Waight said today November 30 2011.
"While the association to December 21 2012 is under debate, we're astounded by other information coming from the site. Potentially, this is one of the greatest finds of the century," he added.
Ever since the Seattle Times ran an article in November 2011 about a 2012 reference discovered at the Comalcalco Maya archaeological site in Mexico's Tabasco state, the internet has been running hot with stories and speculation about the implications of the find. As there is only one other specific prediction as to December 21 2012 from the ancient Maya – the well-known and controversial Tortuguero stela 6, the Comalcalco find galvanised 2012 doomsday theorists.
Serious Maya scholars such as David Stuart, a specialist in Maya epigraphy at the University of Texas at Austin, remained skeptical, with Mr Stuart quoted by the Associated Press as saying that, "Some have proposed it as another reference to 2012, but I remain rather unconvinced."
However, the Comalcalco site has yielded evidence that does have the potential to stand history as we know it on its head.
The Comalcalco site is unique in many ways, not the least in that it is constructed of millions of bricks. Archaeologists were surprised to find the inner-facing sides of many bricks had images and inscriptions on them. The mystery deepened when they discovered these hidden sides also contained marks virtually identical to so-called "makers marks" on ancient Roman bricks made half a world away centuries ago, leading one of the sites' researchers, Neil Steede, who noted the correlation while photographing some 1500 bricks to say, "The illustrated bricks of Comalcalco are pieces to a grand puzzle, whose completed, final image may reveal a Roman Christian presence in the Americas a thousand years before the arrival of Columbus."
Mr Waight said that Chaa Creek's Tunkul Project, which is coordinating credible information on the Maya of Belize to present a better understanding of this fascinating culture, especially throughout 2012 as interest in the Maya's Winter Solstice increases, is continuing to investigate the find.
"As interest in the Maya and 2012 continues to grow, we expect that new information will come to light, but the news from Comalcalco is earth-shattering and completely unexpected. At Chaa Creek, our interest has always been to present credible information and provide authentic Maya experiences, and when things like the Comalcalco brick come up you naturally pay attention.
"However, the more we studied it the more interesting it became, and the ancient Roman connection, whatever it may prove to be, stopped us right in our tacks. To say that it was more than we bargained for is an understatement. It's just astounding," he said.
Mr Waight added that throughout 2012 Chaa Creek will be disseminating information about the Maya civilisation through a dedicated website and hosting a variety of workshops, seminars, events and activities in the lead up to the nationwide Maya celebrations of the winter solstice of 2012.
"At Chaa Creek we've always maintained that the true, legitimate and verifiable information about the Maya is far more interesting and just as spectacular as any left-field theories or Hollywood blockbuster film scenarios. This find at the Comalcalco site may just be one of those examples," Mr Waight said.
# # #