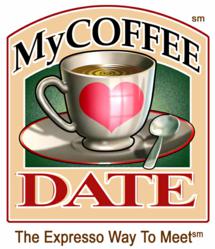 Coffee dating, by meeting someone in a public coffee shop, is not only safer and commonplace, but offers a great deal more flexibility
Irvine, CA (PRWEB) November 30, 2011
MyCoffeeDate.com, the Espresso Way to Meet™, provides the ABCs and etiquette of coffee dating, shares experiences—good, bad and so-so—of coffee daters and  features tips, advice and even words of caution. It also provides links to useful sources of additional relevant information and reviews matchmaking sites.
As online dating has become the most popular way for matchmaking, getting to actually meet someone face-to-face for the first time poses risks as well as opportunities. To begin with, research shows that eight out of ten people lie on dating websites, if only to create a better impression.
Still, the first actual meeting can be awkward, disappointing, boring, expensive, and maybe unsafe, even after using dating websites to "screen" its members.
"Coffee dating, by meeting someone in a public coffee shop, is not only safer and commonplace, but offers a great deal more flexibility," says Diane Rennick, MyCoffeeDate.com site editor. "You can keep your date to half an hour or extend it to one or two hours if the chemistry is right."
"You can keep your expenses down to a cup of coffee or get some pastries and romance-inducing chocolates'" continues Ms. Rennick. "You can even bring a few rosebuds to make your coffee date more romantic, or a balloon for instant identification. You can dress for comfort or wear something distinctive to put your best foot forward, without being too obvious about it."
"A coffee date allows you and your date to interact in the place and time of your choosing," continues Ms. Rennick. "You can choose a quiet, well lighted, and family friendly coffee shop or a more upbeat watering hole for singles. A coffee date can blossom into a mutually desired dinner date or other follow-up dating activities."
It has been said, "you only have one chance to make a great impression." Mycoffeedate.com is designed to improve its readers best chances to make this great impression with the new and increasingly popular coffee dating rituals.
###