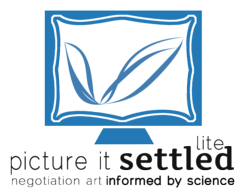 Perfect tool for busy professionals – lawyers and litigants – who need immediate, on-the-spot help in discovering what's going on in a settlement or contract negotiation. Infinitely better than scratching your head!

- John Allen Chalk
San Antonio, TX (PRWEB) November 30, 2011
Picture It Settled™ has developed enterprise software to help litigants analyze their positions and develop successful negotiation strategies. Using patent-pending algorithms and neural networks crawling over thousands of cases and settlement negotiations, the software suite helps negotiators do hard-headed case evaluations and plot successful negotiating strategies.
Some of that intelligence has been made available in a free app that was recently approved by the Apple Store. Picture It Settled™ Lite tracks the dollar moves in negotiation. But, perhaps more importantly, it also tracks the time interval between offers. The app then takes that offer history and extrapolates it out in both dollars and time to help the parties picture whether and when they might reach a deal. The actual offers are connected by solid lines and the extrapolations are connected by dotted lines.
The app also helps users calculate future offers based upon the concession rates of both parties. Users may want to match their last move in the next round. The app will make that calculation based on the prior dollar moves. If the user would rather calculate its next move based on its percentage move in the last round, the app will calculate that too.
Negotiators are often influenced by their opponent's moves. They may want to match their opponent's move in dollar or percentage terms. It's what negotiation theorists call "tit-for-tat". The app offers pre-calculations that assist litigants choosing that course.
Importantly, the app graphs the effects of such moves on the likelihood of reaching settlement by testing whether the offer patterns on each side will lead to a deal – the point at which the lines intersect on the graph.
Since most litigators manage multiple cases at once, the app will keep track of each one separately.
Early reviews have been positive:
"Perfect tool for busy professionals – lawyers and litigants – who need immediate, on-the-spot help in discovering what's going on in a settlement or contract negotiation. Infinitely better than scratching your head!" - John Allen Chalk, litigator, arbitrator, mediator, Whitacre Chalk, Fort Worth, and former Chair of the Texas Bar ADR Section
"The Picture It Settled app is brilliant. It is a sophisticated tool to help parties explore their options and develop successful negotiation strategies." - Erin Gleason Alvarez, Director, Office of Dispute Resolution, Chartis, New York
"Picture It Settled gives negotiators immediate, objective input into their next move. With Don Philbin's new app, 'Where's this discussion headed?' now has a more scientific answer." - John DeGroote, former global company GC and founder of SettlementPerspectives.com
"Leave it to Don Philbin to lead the way in utilizing technology to assist the negotiator and practitioner. He has done it again with this clever and elegant, smart and handy app." - Lou Solomon, Litigation Co-Chair, Cadwalader, New York
"This decision-making tool quickly and effectively adds quantitative rigor to complement intuitive negotiation tactics. In difficult negotiations it serves as both a test of subjective impressions and a path to case resolution." - Randall Kiser, DecisionSet®, author of "Beyond Right and Wrong: The Power of Effective Decision Making for Attorneys and Clients" and "How Leading Lawyers Think: Expert Insights into Judgment and Advocacy"
"This software takes a lot of the guesswork out of concession strategies in negotiations. By doing that, it allows your System 2 mind to focus on driving to settlement without as many emotional and cognitive distractions. Very useful tool to any negotiator or mediator." - Doug Noll, mediator, peacemaker, author of "Elusive Peace: How Modern Diplomatic Strategies Could Better Resolve World Conflicts" and "Peacemaking: Practicing at the Intersection of Law and Human Conflict"
"Explaining settlement dynamics – especially concessions – to clients is often difficult. Picture It Settled provides a powerful graphic and logic to help deliver the message. I really like that."

Royal Lea, Bingham & Lea, San Antonio
"Picture It Settled is an exciting new application. It takes the cutting edge negotiation theory first published by Mr. Philbin in the Harvard Negotiation Law Review and transforms it into an invaluable tool for practitioners and litigants involved in real world settlement negotiations." - Cari Wint, litigator, Debevoise & Plimpton, New York, and former Editor-in-Chief of the Harvard Negotiation Law Review
###