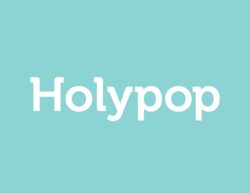 Jesus said faith should be so simple that children should get it. The same goes for modern Christian websites. Simplicity wins.
Orlando, FL (PRWEB) November 30, 2011
Holypop.com, Bible study and christian answers community, is launching its modern-looking new logo today exclusively on their Facebook & Twitter pages, to kickoff the countdown to the all new Holypop.com, releasing on December 6th, 2011.
"Holypop is a way for people seeking a relationship with God to self-educate, and experience the power of Christ through the internet," CEO Chris Carberg said, " and now, we're embracing a new approach to everything that we do, promoting a clean simplicity that has been absent in Christianity and Christian websites up until now, and part of why young people are nowhere to be found."
Holypop's original logo was designed with a shield and a purple and gold color palette. The new change is not a shift from their mission to equip Christians to defend their faith, but it's mean to be more welcoming and less defensive.
"We want Christians to be able to defend their faith, but more than that, we want them to experience God through Holypop.com", Carberg said. "Our relationship with Christ is one where He welcomes us with His love, and shows us the way is very simple, so simple, that a child should be able to understand it."
Holypop's Creative Director, Matt Dean, initiated the change, seeing an opportunity to reach out to a generation of Christians who spend their lives online and have grown up affected by the Apple design aesthetic.
Dean further explained the change, "The idea behind the entire rebranding was to simplify it. We redesigned the logo specifically to make it less intimating, and more friendly and inviting with the hope of capturing a younger audience. We think there'll be a lot of surprised people when we release the new website next week."
Holypop is launching their new website on Tuesday December 6th and the 12,000 people that they reaches via social media are already speculating what the new logo will mean for the reconfigured website.
"We're not giving Holypop a facelift, we're reinventing the wheel, because people demand more from their web experiences, Carberg said. "We're going to lead the charge for Christians to push the creative envelope and produce brilliant experiences, not boring websites."
December 6th is just six days away.
Visit Holypop on Facebook and Twitter or at their website.
###