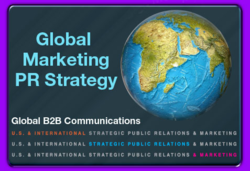 "Some companies are wasting months of time and thousands of dollars building links that won't drive traffic when an experienced web copywriter with the right math tools could transform their lead generation with an afternoon's work."
Chicago, Illinois, USA (PRWEB) November 30, 2011
With intent to debunk widespread false claims that link building is the most critical element of website optimization and online lead generation, Global B2B Communications is offering worldwide companies a no-cost one time analysis of their unique competitive landscape on the web using sophisticated mathematical and linguistics tools originally designed for web competitive analysis. Such assessments of whether distributing news releases should be tailored for link building per se or more direct targeting of news outlets that serve real-world prospects is a standard component of Global B2B Communications' math-powered public relations and marketing services.
Amy Munice, President of Global B2B Communications (also known as ALM Communications Inc.) explains, "With the right mathematical tools you can see in minutes that some companies are wasting months and thousands of dollars on link building efforts that are going to have negligible impact on how search engines send traffic to their site. Sometimes all that counts in a particular competitive situation are what SEO consultants call "on-page" factors. In that type competitive scenario an experienced web copywriter, armed with the right linguistic and mathematical tools, could transform the lead generation potential of a particular web page in an afternoon's work. "
Munice continues, "All those emails promising link building as if it is always the "holy grail" are equivalent to all the spam you get promising 'top search engine rankings'. People who send you these emails are either highly ill-informed about how search engines really work, or worse, assume that you are and won't know the difference. It's quite easy to pay a news distribution service to get your news on Yahoo or Bing and link to your desired pages. It's a totally different challenge when you are targeting niche technical markets worldwide. We go to great lengths to make a strategic analysis of how to weight various distribution methods for news releases, as well as other strategic decisions where data and mathematical tools now provide insights on how to get the highest returns-on-investment for your marketing and PR efforts."
This one-time service to research the best-match type of news releases (i.e. for link building or for direct lead generation) is available at no charge until March 31, 2012 for one keyphrase. To request this service write to xray(at)globalb2bcommunications(dot)com or call Amy Munice at +872-222-7361.
About Global B2B Communications
Global B2B Communications is the world's first global PR agency to both give guarantees and fully integrate mathematical tools originally designed for web competitive analysis into all clients' communications. Global B2B Communications' website (http://www.globalb2bcommunications.com) is also an online information source on up-to-date information on how world search engines work, web competitive analysis, and a compendium of internet marketing tools and services in synch with today's search algorithms, directories for marketing online and off-line, such as a "Creative Videographers' Eyes", and the sponsor and registration portal for state-of-the-art marketing courses- -both online and off-line. Amy Munice, President of ALM Communications (now also doing business as Global B2B Communications) can be reached at info(at)globalb2bcommunications(dot)com or +872-222-7361, LinkedIn- "Amy Munice", or Twitter—@WorldB2B.
# # #