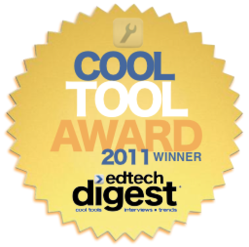 New York (PRWEB) November 30, 2011
Four "cool" digital learning solutions from Pearson are honorees in the inaugural "Cool Tool" Awards from EdTech Digest. Dash, an innovative Apple iPad app for teachers, took home top honors. Pearson's middle grades math program, digits; Online Learning Exchange™ (OLE); and Teacher Compass PD were recognized as finalists.
EdTech Digest is a publication featuring leaders in and around education dedicated to making a difference for future generations through the innovative use of technology. The EdTech Digest "Cool Tools" Awards Program recognizes transformative technology products and services in education.
"In a crowded field of entries, it's exciting to acknowledge those companies and products making the biggest difference," said Victor Rivero, editor in chief of EdTech Digest.
Winner of the best Mobile (App) Solution, Pearson's Dash app for the Apple iPad gives educators mobile access to point-of-use teaching strategies, content information, training resources, engaging videos, lesson plans, discussion topics, test questions and answers, interactive tutorials and personalized student information, all integrated through a user-friendly touch-screen interface. Dash supports teachers during lesson preparation and active teaching in an unprecedented manner by giving them mobile access to the information and tools they need, designed specifically for the touch-screen mobile tablet device.
Dash directly aligns to Pearson's digital instructional programs and eTexts, and increases instructional efficiency to help improve student achievement. Available first for Pearson's new middle grades social studies programs, myWorld Geography and myWorld History, Dash provides all the teacher content and tools needed to implement the myWorld programs successfully.
Honored as a finalist in the Interactive Whiteboard Solution category, digits is the first middle school mathematics core curriculum that leverages technology to personalize student learning and optimize class instructional time. Written entirely to the Common Core State Standards, digits integrates lesson planning, homework management, intervention and assessment, all within a user-friendly design that encourages class collaboration via interactive whiteboards. digits combines a comprehensive math curriculum, powerful best practices in teaching and easy-to-use technology so teachers can deliver personalized instruction effectively and save valuable time. digits streamlines instruction through point-of-need resources that are intuitive for teachers, and allows them to address the individual needs of every student – in and out of class.
A finalist in the New Product or Service category, Online Learning Exchange™ (OLE) is a new, reliable web-based destination where K-12 teachers can create their own customized lessons and personalize classroom instruction to improve their students' learning. OLE, which supports any curriculum, brings together tools for teachers to aggregate their own content, quality third-party resources and numerous digital assets from Pearson's research-based instructional materials, all tagged by subject, grade and educational standard.
A finalist for top Professional Development solution, Teacher Compass PD is a web-based, on-demand professional development platform that engages teachers in ongoing training, reflection and collaboration. Combined with Teacher Compass Observe – Pearson's teacher observation and evaluation platform – Teacher Compass PD creates individualized professional development plans for every teacher based on observation data. These professional growth plans are then connected to suggested professional development opportunities, including an easily accessible online library of relevant training content and videos.
About Pearson
Pearson, http://www.pearsoned.com, has as its mission to work side by side with states, districts, teachers, students and parents to ensure that every child is prepared for college and career (NYSE: PSO).
For more information:
Kate Miller, kate.miller(at)pearson(dot)com – 800.745.8489
###