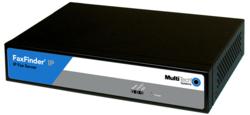 The FaxFinder IP is ideal for SMBs because it offers substantial cost savings over existing legacy fax solutions and online fax subscription services, allowing businesses to achieve an ROI in weeks - David Tincher, Senior Product Manager
Minneapolis, MN (PRWEB) November 30, 2011
Multi-Tech Systems, an industry-leading Unified Communications solutions provider, announced today that TMC, a global, integrated media company, has named the FaxFinder® IP fax server as a recipient of the 2011 Unified Communications Excellence Awards. Honoring companies that have made significant contributions in advancing unified communications technology, these awards recognize products that have unique features and have demonstrated success with clients.
The FaxFinder IP is an all-in-one fax server that provides distributed faxing capability over a WAN, allowing corporate offices as well as remote offices to send and receive faxes electronically. Faxes can be sent via print client, web client, and e-mail. Faxes can also be routed to an individual's e-mail inbox, a network folder, or a network printer. The FaxFinder IP web services API allows for easy integration into third-party applications for the automated sending of faxes based on existing business rules.
"The FaxFinder IP is ideal for small-to-medium-sized businesses because it offers substantial cost savings over existing legacy fax solutions and online fax subscription services, allowing businesses to achieve an ROI in weeks," said David Tincher, Senior Product Manager, Multi-Tech Systems. "The FaxFinder IP is also compatible with a variety of leading telephony systems, including Avaya, ShoreTel, Mitel, and Panasonic."
Awards are presented to companies that provided a case study of unified communications success experienced by a client after implementing the nominated product or service. Awards are based on hard data demonstrating the improvements that the winner's product/service made for its client's business.
"Congratulations to the companies that are making substantial improvements in the unified communications space," stated Rich Tehrani, CEO, TMC. "We are happy to provide the Unified Communications Excellence Award to these companies based on their successful work and contributions to the UC marketplace."
The FaxFinder IP was also awarded the TMC 2011 INTERNET TELEPHONY Excellence Award. These award winners are published in the October 2011 issue of INTERNET TELEPHONY magazine, http://www.itmag.com.
To learn more about the FaxFinder IP, resellers and customers are invited to visit http://www.multitech.com/ff.go, where an ROI calculator and webinar dates are posted.
About Multi-Tech Systems
Multi-Tech Systems offers the industry's most comprehensive M2M (machine-to-machine) and unified communications products and services portfolio available today. As a leader in the industry for 40 years, Multi-Tech's reputation for reliability and innovative design is evident with 80+ patents, 20+ million devices being used by thousands of customers worldwide and certifications from more than 30 carriers and over 80 countries. Multi-Tech is certified by the WBENC as a Women's Business Enterprise and by C-TPAT (Customs–Trade Partnership Against Terrorism). Visit http://www.multitech.com. Follow Multi-Tech on Twitter: twitter.com/MultiTechSys
About TMC
Technology Marketing Corporation (TMC) is a global, integrated media company helping clients build communities in print, in person, and online. TMC publishes Customer Interaction Solutions, INTERNET TELEPHONY, InfoTECH Spotlight and Next Gen Mobility magazines. TMCnet, which is read by nearly two million unique visitors each month, is the leading source of news and articles for the communications and technology industries. For more information about TMC, visit http://www.tmcnet.com.
# # #