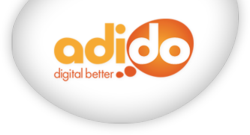 The Bournemouth-based and SEO Surrey digital marketing agency has grown considerably in the last year with regards to both their client base and their staff
(PRWEB) November 30, 2011
Adido has ended their highly successful year by moving into larger offices.
The new space is in the same building but is twice the size of the office they had before – far too small for their ever growing team. The new office has more meeting rooms, much more floor space and a kitchen that can accommodate lots of caffeine addicted digital professionals at the same time!
The Bournemouth-based and SEO Surrey digital marketing agency has grown considerably in the last year with regards to both their client base and their staff and had found their previous space too small to accommodate everybody.
They have also won some very prestigious awards that reflect both their industry success and their success in the world of business in general.
Here are some of Adido's achievements in the run up to settling into their spacious new office space:
Awards
Adido won a UK Search Award in November for "Best Local Campaign". When you consider that the judges included Google UK, this is a very prestigious win indeed.
Also, on the 23rd November, the agency won the highly sought after Dorset Business Award of "Entrepreneur of the Year".
These awards demonstrate both Adido's excellent work and also the standing they have in the business world.
New business
New clients gained in the last year include Bowlplex, Glenigan and Superior Fires. Adido also won all of the online marketing for existing client Postgoldforcash.com.
Other new business wins came from companies like Heynes Travel, EIMS, and Robert Old.
The PPC Surrey agency also has some very exciting new business pitches coming up, watch this space for more.
New staff
In response to Adido's growth in clients, they have also expanded their team!
All four major departments have gained excellent new members of staff in the last year to help manage an ever increasing workload. The sales and marketing teams have both gained talented professionals who have been able to hit the ground running, bring their unique skills and experience to the table. The technical and projects teams have also gained creative and technical staff perfectly positioned to deliver excellent results from the off.
New branding
Adido has always been known for not just doing digital better than their biggest competitors but also for being a digital marketing agency that strives to get better results every day, beating their previous excellent results. Adido updated their branding to reflect this more, debuting a brand new logo and website and throwing a very successful launch party to celebrate!
The new office is the icing on the cake with regards to Adido's achievements this year. Luckily for the team the company has even managed to stay in the same building while taking a much larger office on a higher floor.
Adido hopes to win more awards in 2012 and gain even more exciting new business.
Find out more about this leading digital marketing agency by going to http://adi.do.
Notes to editors:
Adido was set up in 2003 by four talented Bournemouth University graduates and hit the ground running straight away. In 2008 they decided to expand their repertoire from just web design to include aspects of digital marketing like SEO, PPC and social media marketing. Adido has continued to add strings to their bow ever since and has become a one stop shop for all things digital marketing related for many of their clients.
Adido set up sister company Adido Communications in 2011 to effectively bridge the gap between offline and online marketing and create a true synergy between the two. Adido Communications specialises in offline marketing such as branding and promotional literature and is headed by Emma Aston, formerly Group Account Director at Bright Blue Day.
Find out more about the exciting work done by Adido by contacting andy(at)adi(dot)do.
###