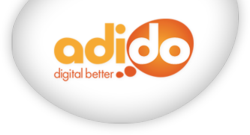 To be shortlisted for two awards is brilliant and great recognition of the hard work the team has put into these accounts.
(PRWEB) November 30, 2011
Leading digital marketing agency Adido has won a prestigious award at the UK Search Awards. They were shortlisted in not one but two categories at the awards which were held on Thursday 3rd November 2011 at the Emirates Stadium in London.
The award was won for the 'Best Local Campaign' for the Colbornes account, the Surrey-based Volkswagen & Audi dealership and recognised Adido's great work at 'dominating Google locally'.
This was achieved from a well-planned and executed organic search strategy, coupled with an extensive pay per click advertising campaign. The activity took into account and also catered for all of Colbornes' sites across Surrey and Hampshire.
Local search is very different to national search as campaign keywords and targeting need to be much more specific to the chosen location. With this in mind and knowing Adido were up against stiff competition, the award is a fantastic win for the team!
Adido was also shortlisted for 'Best PPC Campaign' for the excellent work they have done overhauling the PPC campaign for Postgoldforcash.com. Adido won the pay-per-click account from a leading London agency in April 2011 and since then have taken it from strength to strength with adjustments and improvements.
Kherrin Wade, Adido's Digital Media Account Director says: "To be shortlisted for two awards is brilliant and great recognition of the hard work the team has put into these accounts. We were disappointed not to have won the award for 'Best PPC Campaign' but when our name was announced on the night for winner of 'Best Local Campaign' we were overjoyed. It sets the benchmark for next year when we'll be striving for even more shortlists and wins!"
The Web design Farnham agency has enjoyed many successes over the last year. As well as being nominated for two awards at the UK Search Awards, they also won "Entrepreneur of the Year" at the Dorset Business Awards. Adido also showed that they lead the way with regards to doing digital better by holding a hugely popular "Do Digital Better in 2012" seminar recently.
The seminar was a complete sell-out, with attendees travelling from all over the South of England to hear about what they should be doing in social, mobile and search in 2012.
As well as this, Adido has grown tremendously in the past year both in terms of their team members and their client base, winning key accounts such as Naim Audio, Robert Old, Bowlplex, Glenigan and all of the online marketing for Postgoldforcash.com.
Find out more about this excellent web design bournemouth agency by heading across to http://www.adi.do.
Notes to Editors:
Adido was established in 2003 by four Bournemouth University graduates and initially specialised in web design before realising that they had a wide range of talents. Now, as well as web design for both Ecommerce and services websites, the agency specialises in search marketing, copywriting, PR, usability, digital consultancy and in creating bespoke online marketing strategies that deliver.
Adido recently expanded their marketing services and set up sister company Adido Communications. Adido Communications is an agency specialising in branding and offline advertising and allows Adido's clients to enjoy a cohesive on and offline marketing strategy.
###