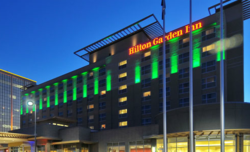 Come On Down And Wine A Little With The Hilton Garden Inn Cherry Creek Hotel
Cherry Creek, Colorado (PRWEB) November 30, 2011
The Hilton Garden Inn Hotel in Cherry Creek offers a unique "Wine A Little You'll Feel Better" package this holiday season. For only $115/night guests will receive a premiere Cherry Creek hotel room for two, a free bottle of either premium red or white wine and a free breakfast for two at the Great American Grill. Enjoy a relaxing stay in Cherry Creek while you wind down from a busy week with a nice bottle of wine and breakfast on us. The hotel is also a short walking distance from the Cherry Creek Mall.
Click To Book the Cherry Creek Hotel Shopping Package, or contact us directly at 303-754-9800. Package availability is limited so please contact the hotel today!
The Hilton Garden Inn Hotel in Cherry Creek, Colorado is located just ten minutes from the heart of downtown Denver and within walking distance of the Cherry Creek Mall, making it incredibly convenient for business and leisure travelers alike. Our Cherry Creek / Denver area hotel's spacious, well-appointed accommodations and generous amenities make it easy to relax and make the most of your stay. Take advantage a location close to downtown Denver and the Tech Center for business and leisure travel.
###