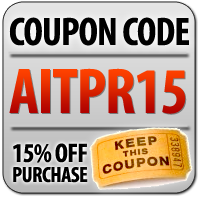 The reseller web hosting industry has become enamored with the use of asterisks and other symbols to hide additional charges
Fayetteville, NC (PRWEB) November 30, 2011
Advanced Internet Technologies (AIT, Inc.) announces its latest promotion aimed at helping web designers, system integrators, and other web hosting resellers by offering a reseller hosting plan with no false promises or hidden fees.
"The reseller web hosting industry has become enamored with the use of asterisks and other symbols to hide additional charges," says Jennifer Rivers-Jackson, Sales Manager. "Most people don't scroll to the bottom of the page to notice the price they thought they were offered was far different from the price at the end of the shopping process."
The Holiday promotional plans offered by AIT are targeted towards web designers and systems integrators that offer web hosting to their customers. Individuals who are looking to start their online business or individuals who are looking build on their current web hosting plan can receive up to three FREE months of hosting.
"We're selling plans for as low as $2.97 a month and dedicated machines for as low as $44.99 a month. These prices will not change during the sales process," says Rivers-Jackson. "Our customers can private label their hosting packages and resell over 100 products AIT can provide."
Established web hosting resellers and companies looking to get into the reseller web hosting industry are encouraged to try the plan of their choice for free. All servers are equipped with twenty-four hour support and a control panel custom built for resellers.
No long term commitment is necessary for either plan associated with the promotion. Customers are able to pay monthly or annually.
About AIT, Inc.:
Advanced Internet Technologies, Inc. offers reseller web hosting, domain name registration, web design, email marketing and is home to over 210,000 customers that include Fortune 500 companies as well as small businesses. AIT has achieved 14 straight years of sustained profitability and been named 2 times to The Inc. 500 list of fast growing firms, 3 times to the Deloitte & Touché Fast 500 list, and NC Entrepreneur Firm of the Year.
###