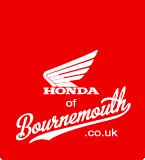 "These fantastic new models offer customers greater choice in design, comfort and affordability with helmets starting from just £269.95"
(PRWEB) November 30, 2011
Honda of Bournemouth is very pleased to announce that the new range of Shoei helmets is now available online – and just in time for Christmas!
These fantastic new models offer customers greater choice in design, comfort and affordability with helmets ranging from just £269.95 such as the Shoei Qwest Black helmet to £599.95 for the Shoei X Spirit 2 Elias 2 TC 3.
Shoei Helmets are designed and created in Japan and shipped across the globe and are highly regarded as one of the finest motorcycle helmets currently available. Shoei have been producing helmets since 1958 and so have a huge amount of experience. Although their helmets are currently sold Worldwide, their workforce remains relatively small and specialised with just under 500 employees in total.
The brand new designs from Shoei currently in stock at Honda of Bournemouth include:

Shoei X Spirit 2 – this is the ultimate racing helmet with multi-composite and high performance fibre layers.
Shoei XR1100 – this helmet combines comfort with style and features a number of ventilation parts hidden under the sleek exterior.
Shoei Qwest – made using organic fibreglass and incorporating a safety locking mechanism, this is the ideal choice for a quiet ride.
Shoei Hornett DS – the only choice for on and off road.
Shoei Multitec – complete with tinted visor and whisper strip kit for an extra sporty feel.
A helmet is one of the single most important pieces of protective gear you can buy as a motorcyclist so it is important that it is of the highest quality available. All of the Shoei helmets are put through stringent safety testing at speeds of up to 300mph to ensure they are up to the high Shoei standards. Therefore, the wearer can rest assured that should anything go wrong on the bike, nothing will go wrong with the helmet.
Honda of Bournemouth only stock the finest motorbike equipment including helmets, Honda motorcycle parts and a whole range of motorbike clothing including a wide range of Alpinestars jackets, trousers, gloves and boots. If you require any motorcycle clothing this Winter, get fully equipped by buying online and have your order dispatched the very next day.
About Honda of Bournemouth: Honda of Bournemouth are a leading Honda motorcycle dealer based on the outskirts of Poole. As well as Honda motorcycles and Honda motorbike parts, we also sell top quality motorcycle clothing and helmets including the new superb range of Shoei helmets.
For more information, please contact our dealership on 01202 541220 or email us at info(at)hondaofbournemouth.co(dot)uk. You can also order online 24 hours a day 7 days a week and if you order before 3pm, your order will be dispatch the next day.
###