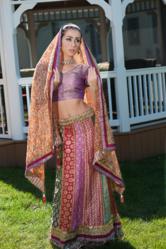 People make frequent trips to their home countries, shopping for the right outfits for their special events. This approach is not only very expensive but also very stressful and inconvenient
New York, USA (PRWEB) November 30, 2011
Indian-American fashion-house, Pure Elegance today announced that it will showcase its new Bridal line during Grand Dulhan Expo, the largest South-Asian luxury bridal event this Sunday, Dec 4th, at the Garden State Exhibit Center in NJ, USA. Pure Elegance is the fastest growing South-Asian fashion brand in US and a maker of both traditional ethnic fashion and casual indo-western designs for fashion-conscious women worldwide.
Grand Dulhan Expo® is the premium South-Asian bridal event and is conducted once a year in US by DulhanExpo. It is the largest luxury event of its kind with hundreds of vendors participating and showcasing goods and services covering all aspects of South-Asian wedding. The event also features internationally acclaimed musicians, designers, fashion models and other celebrities. The event attracts thousands of would-be brides, grooms, their families and friends from across North-America and beyond and is a not-to-be missed event for anyone related to the wedding industry.
"We are proud to be invited to this year's fashion show" said Parna Ghose, President and Chief Designer of Pure Elegance. "We think this is the perfect venue for us to launch our wedding line for the upcoming season. We are very excited to showcase our designs to thousands of would-be-brides and their families from across North America" said Parna.
Indian diaspora has grown dramatically in size and affluence in recent years. Consequently Indian weddings are also getting bigger and more grandiose; celebrations often continuing for many days. Traditional attire is an integral part of all South-Asian weddings and even for mixed-race weddings. Indian wedding fashion market as a result has grown rapidly to over four billion dollar in size globally. Fashion designers from the Indian sub-continent have not been able to reach out and meet the demands of South-Asian wedding market in the USA. "People make frequent trips to their home countries, shopping for the right outfits for their special events. This approach is not only very expensive but also very stressful and inconvenient" said Parna.
Pure Elegance has already received rave reviews from global fashion audience and press alike in recent months. Color, warmth and fresh designs of its unique, unforgettable pieces have touched many hearts during recent major fashion events in Dubai and Washington DC. Modern, stylish South-Asian women in US and elsewhere are looking to strike a balance between trend and their tradition. With this invitation from DulhanExpo, Pure Elegance hopes to further its position as the only internationally recognized Indian-American fashion brand from US.
About Pure Elegance
Pure Elegance is a fashion brand created in US for South-Asian women worldwide. Pure Elegance captures the essence of India and blends it with the best of contemporary West. Pure Elegance takes pride in its exquisite ethnic fashions like sarees, bridal lehengas, salwars, indo-western dresses, tunics and fashion jewelry that perfectly balance trends with tradition. Pure Elegance is the fastest growing brand for South-Asian fashion in US and has nearly forty thousand Fans on its Facebook Fan page.
###