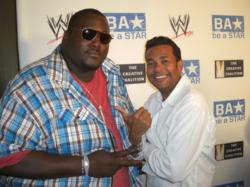 Quinton Aaron is an exceptional actor and it's now time for the world to see his amazing talents
Hollywood, CA (PRWEB) November 30, 2011
Raffles van Exel, Founder and President of Raffles Entertainment, LLC has been appointed as Chief Executive Advisor to actor Quinton Aaron, actor of the Oscar nominated film, "The Blind Side." Mr. van Exel will be advising the rising star.
"Raffles reached out to me early in my career and have been an avid supporter in my endeavors" said Quinton Aaron. "I look forward to a long business relationship with Raffles Entertainment. I'm pleased to have Raffles as my chief executive advisor."
"Quinton Aaron is an exceptional actor and it's now time for the world to see his amazing talents." States Raffles van Exel. "The Blind Side was just an introduction to Quinton Aaron. With our new business relationship, We at Raffles Entertainment plan to seize quality acting and endorsement opportunities that comes our way exclusively for Mr. Aaron. Quinton is a shining star and he deserves nothing but the best."
About Quinton Aaron
Quinton Aaron starred in his first lead role as Michael Oher alongside Sandra Bullock and Tim McGraw in The Blind Side, which was released on November 20, 2009. Aaron has starred in multiple TV-Series, more noticeably in Law and Order, Drop Dead Diva and Harry's Law. Quinton Aaron is now represented by celebrity consultant Raffles van Exel/Raffles Entertainment and is currently working on television and film projects for 2012.
About Raffles van Exel
Raffles van Exel, CEO of Raffles Entertainment, LLC, is a highly respected entertainment consultant having guided some of the world's most acclaimed executives and celebrities: Actor Quinton Aaron from the smash hit The Blind Side with Sandra Bullock, Soul-Funk icon Chaka Khan, Peter Lamas CEO and founder of peterlamas.com, "Skin Diva" Christine Heathman of glymedplus.com, the late King of Pop Michael Jackson, Whitney Houston, Patti LaBelle, Lance Bass (Founding member of iconic pop group, N'Sync), Flavor Flav of the iconic rap group Public Enemy and of the "Flavor of Love" fame, George Benson, and the late Ray Charles. Raffles van Exel has produced for The Queen of Salsa - the late and great Celia Cruz, funk pioneer George Clinton, Sisqo, Nick Cannon, Howie Dorough (Founding member of Grammy nominated group, The Backstreet Boys), rap icon and actor Ice-T, and a host of other artists.
Source: Raffles Entertainment
###