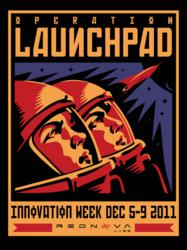 When I worked at a big company, I often felt like I was working on somebody else's 'crap' like there was a better way to do it. This is a chance for someone else to stop working on our 'crap' and come up with their own. -Dan Miller, Red Nova Labs CEO
Westwood, Kan. (PRWEB) November 30, 2011
Earlier this month the Cerner Innovations Campus played host to Kansas City's Startup Weekend, a global affair (accomplished locally in major cities) that centers on sharing ideas, forming teams and launching startups. The intense 54-hour event focuses teams on building a web or mobile application, which could form the basis of a credible business.
Red Nova Labs' CMO Carrie Royce, CTO Bob Zhou and a few employees attended Startup weekend on the final day; Royce helped to judge the 12 presentations. That experience -- albeit brief -- left a meaningful impression on both Royce and Zhou. As they shared ideas with CEO Dan Miller about employees participating next spring, the discussion spun rapidly.
In about five minutes, Operation Launchpad was born: Red Nova Labs announced that it is shutting down for a solid week and going back to full startup mode.
Since then, Red Nova Labs employees have had two weeks to research and toss around business concepts. On Monday, Dec. 5, every person outside of senior management will have the opportunity to present an idea to the company. No direction has been given to sway the employees except that the ideas must be web-based, mobile-based, or something similar that aligns well with the company aptitude.
Following Startup Weekend's example, the entire company will vote towards the best five ideas (out of roughly thirty). Once those ideas are selected, their creators become the project managers and assemble their teams from the employee pool. Lineups will consist of five to six people and include at least one developer. They will set their own work flow of research, development and execution -- operating around the clock if they so choose. Each team will be given a $1,000 resource budget, plenty of supplies and space, and a video camera to document the week as they wish.
The whole company will reconvene over lunch on Dec. 12 and five teams will demonstrate their concepts. Each team will have a set presentation window of 10 minutes, followed by 10 minutes of questions by judges and employees. The winning team will be selected based on business model, customer validation and execution -- similar to Startup Weekend's criteria but customized to Red Nova Labs' way of tackling markets.
That project will be the next Red Nova Labs venture.
"When I worked at a big company, I often felt like I was working on somebody else's 'crap' like there was a better way to do it," Dan Miller said. "This is a chance for someone else to stop working on our 'crap' and come up with their own. I really believe that people are more passionate about working on something they want to work on and ideas they've come up with themselves."
If that's not enough motivation, Red Nova Labs added financial incentives. Each group member on the winning team of Operation Launchpad will receive a $1,000 bonus and 10 percent partnership in the venture (evenly split between team members). So if the business unit is successful and/or sold down the road, the team reaps the benefits. The second place team members will each receive $500, in addition to a split of 5 percent if Red Nova Labs decides to work on that idea. Third place receives $100 gift cards, and fourth and fifth place will receive "roast" awards that have yet to be announced.
"That's because it doesn't really touch Red Nova Labs' pockets until the product is commercialized and successful," Miller said. "Sure, in the long-term, we may have to share a lot of money. We should be so unlucky. Either way, it's worth it to have people excited about what they're working on here."
Red Nova Labs was born much in the same way Operation Launchpad is set up. The company formed with seven people who had no idea what they would develop. They all threw out and tackled ideas for a month or so and finally found one that stuck -- a web marketing resource for the self storage industry called StorageFront.com. Nearly two years after launch, StorageFront generates seven figures annually in revenue and has enabled Red Nova Labs to go into other industries, including web tools, text-message marketing, home lending and iOS gaming. The company builds all of its own products.
Senior managements' faith in their own people made the decision to shut down for a week an easy one.
"If you're going to do it, you've got to go all in," Miller said. "It's like the 'jumping off a cliff' analogy. Everybody wants to be an entrepreneur, but few people want to jump off a cliff. We're just giving our employees a little push by giving them time. This is everyone's chance to step outside their comfort zone, outside the role they're getting paid for. It's their opportunity to really put their stamp on something here."
That week the company C's will be acting as mediators, mentors, assistants, judges and caterers -- answering questions as well as delivering meals for breakfast, lunch and dinner. They aim to help the teams focus while remaining hands-off.
"They have to be able to concentrate on their projects," Miller said. "So Operation Launchpad is all they have to think about all week. They don't have to worry about where they eat, about what day-to-day work needs to be done, about getting paid their commissions."
As an added benefit, the company heads expect the week to be a powerful team-building experience -- the kind that large corporations often pay thousands of dollars to achieve via events and retreats.
"Not only will we get some good ideas flowing throughout the ranks, but our people will learn to appreciate as well as rely on each other more," Miller said. "It's a chance for in-depth interaction -- for marketing to work directly with engineering, for engineering to work with sales... I think everybody will have a new appreciation for what the other side goes through as well as what they can bring to the table."
At the close of Operation Launchpad, many Red Nova Labs employees will share their experiences via video and written blog posts on RedNovaLabs.com. The public will be able to see the outcome and the winners on Red Nova Labs' blog.
[Red Nova Labs would like to extend thanks to Startup Weekend for the inspiration.]
About Red Nova Labs
Red Nova Labs was founded and self-funded in 2009 as a web development and marketing agency as well as a technology think-tank, creating original, cutting-edge systems for web and mobile. On the service side, the company supports interface design, backend programming and online marketing. On the product side Red Nova Labs invents, builds and launches its own web-based platforms for various applications and vertical markets. To support both business models, its growing team of development engineers conceives resourceful code generators which add practical ease to complex programming -- enabling unprecedented speed in creating vibrant, multidimensional environments and utilities. Once a product is launched, each business operates autonomously as an independent unit, with full engineering and marketing support from Red Nova Labs on the back end. The company is open to collaborative opportunities.
###