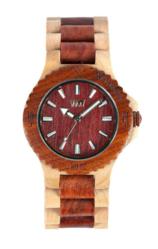 We've always been about products that are unique, that you can't find at every corner store
- Robin Weber, President, BillyTheTree.com
Belleair Bluffs, FL (PRWEB) November 30, 2011
BillyTheTree has just announced that the original WeWood brand of wooden watches is now available to their customers across the globe. A watch made out of wood, one might ask? That is indeed the case, and is truly a novel, unique concept that can be the perfect gift for anyone on your list.
"We've always been about products that are unique, that you can't find at every corner store, and that allow our customers to express themselves in new ways," said Robin Weber, president of BillyTheTree.com. "Thus, the WeWood wooden watches are a natural fit for our customers – and the response we've already gotten has been tremendous," emphasized Mr. Weber.
BillyTheTree.com takes pride in being just a little different when it comes to unique jewelry, watches, and accessories. They offer a huge selection of unique and beautiful magnetic therapy jewelry, extraordinary nephrite jade jewelry from Canada, Tifosi and Anarchy brand sunglasses, and many other remarkable products, such as the handmade WatchCraft® watches.
As the holiday shopping season really kicks into gear, it's great to know that BillyTheTree.com also offers free global shipping and, during this time of year, an extended holiday shopping guarantee on all jewelry, watches, and sunglasses, as part of their continuing commitment to a stellar customer experience.
"We are making it easier than ever for customers from around the globe to finish their entire holiday shopping in one fell swoop, and we are helping to make sure that their orders arrive in time by rapidly shipping out orders, and by providing detailed order deadline information," said Weber.
Family owned since 2004, BillyTheTree.com knows that what is most important during this time of year are friends and family. That's why they're taking the stress out of searching for the perfect gift, so that folks all over can spend more time with the ones they love and care about.
About BillyTheTree.com
Founded in 2004 by Robin Weber when he was still a senior in high school, BillyTheTree.com offers a large variety of affordable, yet high quality jewelry, watches and sunglasses. The company offers free worldwide shipping on these product lines, which include almost 10,000 items, consisting of magnetic jewelry, sterling silver jewelry, jade jewelry, high performance sport sunglasses, and more. For more information, visit http://www.BillyTheTree.com.
###