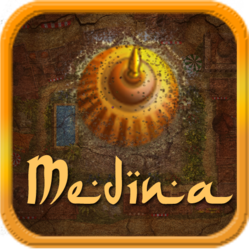 "Destined to become a Casual RPG classic." AppDictions, November 21, 2011
San Francisco, CA (PRWEB) November 30, 2011
Just in time for the holiday season, MEDINA - WARNING Highly Addictive will be gifting users with a new iOS update further deepening the popular app's story line and objectives.
When navigating Medina's story line, players are dared to choose their character and level of difficulty to challenge best inner Sheikh (or attain the knowledge to become one), while finding and collecting symbolic quest objects, and ultimately escaping the Moguls path. Power through Medina's labyrinth maze, listen for the Iman's cue, unlock more imperial millennium cities and sequentially present HRH The King with the found quest treasures. Destiny for the player will be shown, ultimately revealing truths that have eluded generations.
In addition to the already deep story line, more quest objects are being added, as well as in-app purchase opportunities to help players achieve imperial millennium city progression. Included in the update is a new icon for the App Store.
Currently being reviewed by popular app review sites, Medina- Warning Highly Addictive is getting early resound reviews, "This game is easily addictive" and "We also highly recommended leaving the background music and sound on, and turned way up. The upbeat middle-eastern instruments and soundtrack will take you away to enchanted places as you try and defend the kingdom from evil forces." "Destined to become a Casual RPG classic." AppDictions, November 21, 2011.
Of a possible 5 stars, AppDictions rating for MEDINA - Warning Highly Addictive: 4.5 stars.
Reference: http://appdictions.com/archives/7650
Available now on iTunes App Store,
http://itunes.com/apps/medinawarninghighlyaddictive
Promotions via twitter @78x36production and facebook imperial millennium MEDINA fans to be announced.
78x36productions.com is an independent developer of applications targeting platforms on iPhone, iPod touch, iPad, and Android. Specializing in gaming, reference, lifestyle, entertainment, and travel mobile device applications, our popular titles include- casual gaming RPG imperial millennium: MEDINA - WARNING Highly Addictive, tennis reference 10S REF, and STAR STRUCK Hollywood Celebrity Tour USA including Celebrity Hot Spots.
###