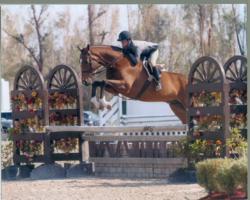 Sometimes they show symptoms, and sometimes they don't. It's our responsibility to listen to what they cannot tell us." Viktoria Jackson-Carinda speaking on horses.
Wellington, Florida (PRWEB) November 30, 2011
Horse Gold Inc., developers and manufacturers of GastroMax3™ Equine Ulcer Paste, the industry's most advanced equine gastric ulcer prevention solution, announced endorsements from Michael Carinda, DVM of Equine Performance Sports Medicine and Equine Aquatic Rehab, an aquatic treatment center, and his wife, Viktoria Jackson-Carinda of Laurel Lane Farms. Both businesses are located in the Wellington area of South Florida.
"We are pleased and honored to have this endorsement from two of the equestrian community's respected experts, and it's great confirmation that we really have something important here for horse owners and trainers," said Scott Mangini, PharmD, developer of GastroMax3 paste and vice president of Horse Gold. Both Viktoria and Mike have been involved in the horse world for many years. Their son Jackson made his first professional appearance at the age of one, sporting both a pacifier and a blue ribbon.
Viktoria Jackson-Carinda, a successful and well-known competitive hunter jumper and trainer with hundreds of ribbons for herself and her clients, said she is passionate about the need for and effectiveness of GastroMax3 paste. "I believe almost all, if not all, show horses have ulcers," she said. "They feel stress when they can't graze enough, when they see a trailer pull up or when we gear them up. Sometimes they show symptoms, and sometimes they don't. It's our responsibility to listen to what they cannot tell us. I'm very pleased with how well GastroMax3 paste has been working."
Carinda said he began hearing about GastroMax3 paste at racing stables where he is the primary veterinarian. "I was skeptical at first, because it didn't seem possible the product could work after so many other attempts to create a new and effective omeprazole based product have failed," Carinda said. "The effects of GastroMax3 paste on horses with equine gastric ulcers that I've treated have all been positive."
Equine Aquatic Rehab has a special interest in helping horses under stress. The company's HydroHorse LLC Submerged Treadmill Systems allow horses to exercise without the constant concussion of solid surfaces.
According to Carinda, the effectiveness of GastroMax3 paste is due to fact that the omeprazole is aided by the healing effects of L-glutamine, with sodium acid carbonate neutralizing the excess stomach acid, enabling the active ingredients to get to the small intestine. He explained ulcer medicines without these extra ingredients are broken down in the horse's stomach, and little reaches the small intestine. He said only about 28% of straight omeprazole will pass through the to the small intestine by itself.
"I carry GastroMax3 paste with me and use it successfully on my own race horse, my wife's show horses and many patients, from the professional hunter jumper and dressage horses to racing horses," Carinda said.
ABOUT HORSE GOLD INC.
In 2010, Horse Gold was launched by a group of expert horsemen. Scott Mangini, PharmD, developed GastroMax3™ Equine Ulcer Paste to address the widespread problem of equine gastric ulcers in racing and performance horses. The company provides affordable, effective supplements for standardbred and thoroughbred trainers and horse owners. GastroMax3 paste prevents ulcers with a Patent Pending combination of two active ingredients and two other agents that help the preventative ingredients get past stomach acid to the small intestine, so more is absorbed. To learn more about Horse Gold and its flagship product, GastroMax3 equine oral ulcer prevention paste -- by horsemen for horsemen, visit http://www.HorseGold.com.
# # #