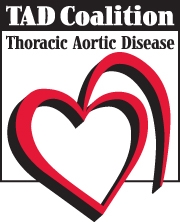 It is vital that the guidelines, which were developed by nine leading medical associations, be incorporated into clinical practice because too many patients with aortic disease do not know they are at risk of a potentially fatal aortic dissection.
Port Washington, NY (PRWEB) November 30, 2011
The Thoracic Aortic Disease (TAD) Coalition is now making available the American College of Cardiology (ACC)/American Heart Association (AHA) Pocket Guidelines for the Diagnosis and Management of Patients with Thoracic Aortic Disease. The 64-page booklet, based on the guidelines* published in March 2010, is available to physicians and other healthcare providers free of charge.
The guidelines – which were the first ever published on diagnosing and managing thoracic aortic disease – can help prevent many of the 10,000+ annual fatalities caused by aortic dissection. Some of the risk factors associated with aortic dissection can be found in people of any age, as evidenced by the high-profile people who have died in this way: actor John Ritter, award-winning playwright of Broadway's RENT, Jonathan Larson, U.S. Olympic volleyball player Flo Hyman and, more recently, U.S. Envoy Richard Holbrooke.
"It is vital that the guidelines, which were developed by nine leading medical associations, be incorporated into clinical practice because too many patients with aortic disease do not know they are at risk of a potentially fatal aortic dissection," said Dianna Milewicz, MD, PhD, Professor and Director of Genetics at The University of Texas Health Science Center at Houston (UTHealth), Director of the John Ritter Research Program at UTHealth, TAD Coalition Chair and a member of the writing committee for the guidelines.
Healthcare providers can request a free copy at the following URL: http://bigsanto.formbin.com/forms/tad_pocket_guide_order_form. For multiple copies, send your request to TADcoalition(at)marfan(dot)org.
The TAD Coalition is making this possible with an unrestricted educational grant from W.L. Gore & Associates.
Critical Issues
The critical issues in diagnosis and treating aortic disease, as outlined in the guidelines, include:

Thoracic aortic diseases often have no symptoms and are not easily detectable until an acute and often catastrophic complication occurs.
Only with specific imaging techniques can aortic disease be identified before a tear or rupture, yet some of the imaging techniques pose their own challenges, ranging from potential health risks to costs, which are not always covered for asymptomatic patients, even if they are deemed high risk.
The urgency of treating stable, high-risk patients, despite being asymptomatic is imperative because the surgery has better results before an acute or catastrophic dissection or rupture occurs.
Patients who are experiencing an aortic tear or rupture may have atypical symptoms, thus delaying the immediate care they need.
There is a growing body of evidence that genetic changes or mutations predispose some people to aortic diseases. Therefore, identification of the genetic alterations leading to these aortic diseases has the potential for early identification of individuals at risk. Understanding the molecular basis may lead to targeted medical therapy to then treat the disease.
More research is needed on aortic disease, its various causes and potential treatments.
"The guidelines are truly life-saving if they are put into practice," said Carolyn Levering, President and CEO of the National Marfan Foundation, which convened the TAD Coalition. "We are extremely grateful to Gore for enabling us to produce the pocket guidelines for physicians and other healthcare providers."
TAD Coalition
The TAD Coalition, which was established to promote the new guidelines and help assure that people with aortic disease can get the highest quality of patient care, continues to implement strategies to improve aortic health in the U.S. It has three primary goals:
Increase public awareness of both genetic and environmental factors that put people at risk for thoracic aortic aneurysms and acute aortic dissections
Provide educational materials concerning the symptoms, clinical evaluation and medical management of thoracic aortic disease
Improve the diagnosis and treatment of acute aortic dissections in the hospital emergency department
The TAD Coalition is comprised of:
Leading experts/opinion leaders on aortic disease who served on the guidelines writing committee: Dr. Dianna Milewicz, University of Texas Houston and John Ritter Research Foundation; Dr. Luke Hermann, Mount Sinai School of Medicine, NY; Dr. Kim Eagle, University of Michigan, International Registry of Aortic Dissection and GENTAC; and Dr. Loren Hiratzka, TriHealth, Cincinnati
Voluntary health organizations: National Marfan Foundation, Loeys Dietz Syndrome Foundation, Ehlers-Danlos National Foundation, Ehlers Danlos Syndrome Network CARES, Turner Syndrome Society of the United States, John Ritter Foundation for Aortic Health and the Canadian Marfan Association
Other interested parties, including Nebraska Methodist Health System and Dr. John Elefteriades, Yale.
For more information, log on to http://www.TADCoalition.org.
Hiratzka LF, Bakris GL, Beckman JA, Bersin RM, Carr VF, Casey DE Jr, Eagle KA, Hermann LK, Isselbacher EM, Kazerooni EA, Kouchoukos NT, Lytle BW, Milewicz DM, Reich DL, Sen S, Shinn JA, Svensson LG, Williams DM. 2010 ACCF/AHA/AATS/ACR/ASA/SCA/SCAI/SIR/STS/SVM Guidelines for the diagnosis and management of patients with thoracic aortic disease: a report of the American College of Cardiology Foundation/American Heart Association Task Force on Practice Guidelines, American Association for Thoracic Surgery, American College of Radiology, American Stroke Association, Society of Cardiovascular Anesthesiologists, Society for Cardiovascular Angiography and Interventions, Society of Interventional Radiology, Society of Thoracic Surgeons, and Society for Vascular Medicine. Circulation 2010: published online before print March 16, 2010, 10.1161/CIR.0b013e3181d4739e
J. Am. Coll. Cardiol. 2010;55;e27-e129; originally published online Mar 16, 2010; doi:10.1016/j.jacc.2010.02.015
# # #