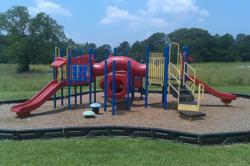 As a mother, knowing my child is playing on a play structure that is installed properly and adheres to all safety codes is critical! - L.Dudley
Lexington, VA (PRWEB) November 30, 2011
Each year more than 200,000 kids are treated in hospital Emergency Rooms for playground-related injuries. With the launch of their new line of playgrounds, ParknPool, an online retailer of commercial site amenities including bleachers, park furnishings and pool furnishings, has educated themselves on the safety precautions that should be taken when installing and maintaining a play area. The most important factors in evaluating the safety of any playground are proper surface, design spacing, equipment inspection, and maintenance.
A proper playground surface is critical in reducing injuries that can occur if kids fall from equipment. The surface under playground equipment should be soft enough and thick enough to soften the impact of a child's fall. Keep in mind that even proper surfacing cannot prevent all injuries and the greater the height of the equipment, the more likely children are to get injured if they should fall.
According to playground safety guidelines, play areas for younger children should be separated from those meant for older children with clearly marked signs to prevent confusion. ParknPool's playground equipment is designed for three different age groups – two to five years of age, two to twelve years of age, and five to twelve years of age. Younger children should not play on equipment designed for older children because the equipment sizes are not proportional for smaller children, which can lead to injury. Likewise, older children should not play on equipment designed for younger ones - smaller equipment and spaces can cause problems for bigger children.
Along with the safety factors that should be considered when choosing the perfect playground ]for any outdoor area, there are also health advantages to adding a playground for children. Childhood obesity has more than tripled in the past 30 years. It is important to keep children healthy and happy with a fun and fantastic playground - kids who are active decrease their risk of becoming overweight. By adding playgrounds to their already extensive selection of outdoor furniture and site amenities, ParknPool is a partner in the drive to get children moving today!
ParknPool is Veteran Owned SBE/WBE Company and is the leading online supplier of commercial outdoor furniture and site amenities such as picnic tables, trash receptacles, park benches and bleachers. ParknPool was begun in 1998 in Orlando, FL and moved their headquarters to Lexington, VA in 2005.
# # #