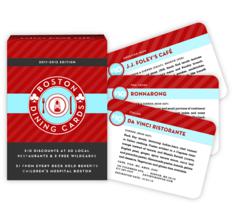 Boston, MA (PRWEB) November 30, 2011
The countdown is on: 25 days 'til Christmas; 20 days 'til Hanukah. With Black Friday, Small Business Saturday and Cyber Monday behind us, holiday shoppers are searching for the perfect gift to fill out their shopping list. Professional organizers tout the wisdom behind finding one great gift and giving it to everyone appropriate on your gift list: this year, it's Boston Dining Cards.
First rolled out in Buffalo, this new product launch has now come to Boston along with Rochester, Pittsburgh, Phoenix and Indianapolis. It's a hip, fun and giftable deck of cards, offering $10 off a meal of $30 or more to 50 restaurants, and now, it's in six cities across the country.
Here's how it works: customers purchase a deck of Boston Dining Cards at one of dozens of area retailers for just $20. Every deck has 50 card-sized coupons for $10 off a $30 meal at a restaurant in the Boston area. (Two cards are "wildcards," good for freebies from local merchants.) While paying, you simply hand your server the card for $10 off your bill.
"It's a win/win/win scenario," City Dining Card's founder Patrick Finan explains. Unlike new internet based promotions that offer steep discounts but exact a heavy cost from restaurants (sometimes a loss of as much as 70% for participating), the deck of Dining Cards builds business for short money. At a cost of only $20 per deck, customers love the savings to 50 restaurants, worth $500 if you ate at every restaurant, and $1 from each deck supports Children's Hospital of Boston. Another bonus: the local economy gets a boost.
Some of the hottest eateries in Boston are included. What's not to love about Chicken Saltimbocca at Bella Luna, Lobster Tagliatelle at Davide, Bi Bim Bab at Mr. Sushi, Crispy Pressed Duck with Turnips at Sibling Rivalry and Roasted Butternut Squash and Carmelized Onions over Coconut Rice at Veggie Planet. Cards are valid through the end of 2012, and there are no blackout dates, and no exclusions.
You can purchase cards at ten area Barnes and Nobles stores, the Harvard Book Store in Cambridge, Grand in Somerville, Stoddards in Newton, Booksmith in Brookline, or go to http://www.bostondiningcards.com for a complete list of retailers or to purchase online.
City Dining Cards, which produces Boston Dining Cards, began in 2010 in Buffalo NY, when a team of five hungry designers put a new spin on an old idea. And they fit right in a stocking.
Top Ten Ways to Give the Perfect Gift to Everyone on Your List
All You Need is a Gift Bag and…
10. For the new parents, or just plain tired parents: a deck of Boston Dining Cards along with an offer to babysit. If you want to be sure they'll take you up on it, put in a small calendar with five or six pre-approved dates circled in red.
9. For the world's best third grade teacher: a deck of Boston Dining Cards and a polished red apple. Add a sprig of holly on the apple for a little holiday cheer.
8. For your housekeeper/gardener/handyman: a deck of Boston Dining Cards and a holiday tip makes the gesture more personal.
7. For your staff or co-workers: a deck of Boston Dining Cards and a letter telling them three
things they did this year that made you realize just how wonderful they really are.
6. For your teenage children: a deck of Boston Dining Cards and an offer to let them have the car. Throw in a prepaid gas card.
5. For your personal trainer: a deck of Boston Dining Cards and a note about eating well in 2012.
4. For your parents, and parents-in-law: a deck of Boston Dining Cards and an offer to go out to dinner with them once a month, just to spend time together. This is another good place to put in a small calendar, with dates already circled in red. They'll know you mean it.
3. For your veterinarian, or dog groomer: a deck of Boston Dining Cards and a picture of
Fluffy.
2. For your hairdresser or barber: a deck of Boston Dining Cards and a Christmas cactus, Poinsettia or jazzy menorah to brighten their work station.
1. For your significant other: a deck of Boston Dining Cards, a bottle of bubbly, and a little black dress. (If you're giving this to your husband or boyfriend, the little black dress is for you. If you're giving it to your wife or girlfriend, just add jewelry.)
###