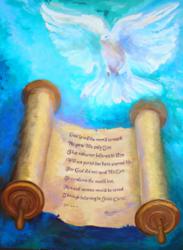 It is faith in Jesus Christ that leads to salvation and creates eternal hope.
Castle Rock, Colorado (PRWEB) November 30, 2011
Candis Kloverstrom with Artistic Impact Publishing uses her Christian Art to illustrate faith in God is a relationship that creates eternal life. Her recently released artwork, "Salvation," is an acrylic painting that was inspired by her pilgrimage to Israel. Giclee prints of "Salvation" are now available through http://www.ArtisticImpactPublishing.com.
"The object of saving faith is Christ Himself, not only a creed or a promise. Faith therefore involves personal commitment to Christ. In other words all true believers follow Jesus," says Keith A. Mattison on Stegokitty's channel.
He also stated, "The object of saving faith in the general sense is the entire word of God. All of which testifies of Jesus. Second, the object of saving faith is specifically the person and work of Jesus Christ our Lord."
Kloverstrom is illustrating John 3:16-17 in her work "Salvation" which states, "For God so loved the world that He gave His only Son, that whoever believes in Him should not perish but have everlasting life. For God did not send His Son into the world to condemn the world, but that the world through Him might be saved."
Promise Land Pilgrimage
"There is so much to see and experience with historical artifacts everywhere that verify Biblical truths," states Kloverstrom, "But walking on stones Jesus stood at Pilot's Judgment hall, I saw Him as a God of mercy. But also, experiencing the Garden of Gethsemane connected me to His humanness."
She saw many belief systems that either denied who Jesus is or who think they know who He is. But, she states, "The scroll being the word of God, without the infilling of Jesus Spirit one cannot fully understand things written in that word because they are spiritually discerned."
An article by Roderick C. Meredith for Tomorrow'sWorld.org states, "The key, of course, is whether we human beings will actually believe the Bible. For the real Jesus would not be widely accepted in modern Christianity or in "nice" society today. He did not teach that "all religions are equal," or that we will "go to heaven" as our reward if only we will "be nice" to one another. The true Jesus Christ of the Bible cried out, "I am the way, the truth, and the life. No one comes to the Father except through Me" (John 14:6)."
Candis Kloverstrom and Christian Art
A blog by a member of the Community Christian church in Miami, Florida states, "Let's make the world a better place! We hear this slogan so often. But with the bad shape this world is constantly in, words just aren't enough. "
Relationship dynamics through brand development, design, and illustration was one focus of Kloverstrom's work the past twenty years. Work that connects to target audience needs makes a difference. Today she uses lessons learned to make a difference in this world.
The Community Christian Church member went on to say, "God doesn't care what you look like, where you come from or where you've been. He took me in like an adopted orphan. Like a heavenly Father He called me His own child. Salvation was right under my nose the whole time! All I had to do was confess my wrongs with my mouth and believe that Jesus died for a sinner like me in my heart. I was set free! My world is a better place because I have Jesus in it today. Heaven isn't so far away after all!"
Background:
Artistic Impact Publishing, LLC, published works such as "Denver Men in the Kitchen" featuring men such as Governor John Hickenlooper, MIX 100 anchor-man Dom Testa, and Denver Business Journal President Scott Bemis. This went beyond the business suites into personal lives creating an accurate picture of today's successful Denver guy.
Today Artistic Impact Publishing creates Christian Art and materials to edify and encourage the body of Christ in their endeavor to live out their faith. Reaching the lost is a mainstay of Christian faith where God's love is the magic ingredient that changes lives.
###