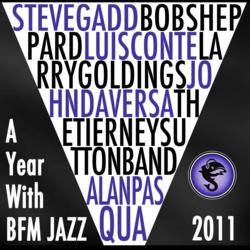 Los Angeles, CA (PRWEB) November 30, 2011
BFM Digital is commemorating the first anniversary of BFM Jazz with a special compilation album, "A Year with BFM Jazz 2011," featuring tracks from the label's top players including Steve Gadd and The Tierney Sutton Band.
Utilizing their established footprint in the digital marketplace with a network of more than 250 digital stores worldwide, BFM Digital created BFM Jazz to insure that talented and seasoned jazz musicians had a home and advocates for their music. As changes in the music industry were affecting major labels, BFM Jazz is built upon a commitment to support the creative community and distribute quality music.
"BFM Jazz was created after years of working with some of the best names in Jazz through BFM Digital. Many of these artists self-released incredible albums with no label support to bring awareness to them. We launched BFM Jazz to offer full marketing, PR and radio support for these releases to help them reach their full potential," says Michele Ito, GM of BFM Jazz.
BFM Jazz kicked off a strong year with "Live at Voce," a live album from one of the most influential drummers of all time, Steve Gadd & Friends. Gadd has recorded legendary drum tracks such as "Aja" (Steely Dan), "Fifty Ways to Leave Your Lover" (Paul Simon), "Late in the Evening" (Paul Simon) and "Nite Sprite" (Chick Corea.)
To bring the first year to a close, BFM Jazz released The Tierney Sutton Band's "American Road" in September, full of the bands' take on Americana classics. Downbeat Magazine stated that "Sutton's luminous alto has seldom sounded so pure" as on her ninth release.
Other BFM Jazz releases, included on the compilation, are Bob Sheppard's "Close Your Eyes," Luis Conte's "En Casa de Luis," Larry Goldings' "In My Room," Alan Pasqua's "Twin Bill" and John Daversa's "Junk Wagon: Big Band Album."
"A Year with BFM Jazz 2011" track list:
1. Sister Sadie (Steve Gadd and Friends)
2. Water Pots (Luis Conte)
3. Conga Melody (Luis Conte)
4. Surface Tension (Bob Sheppard)
5. Brain Fog (Bob Sheppard)
6. Crawdaddy (Larry Goldings)
7. Libre (Larry Goldings)
8. The Bridge (Part 1) (John Daversa)
9. Junk Wagon (John Daversa)
10. Wayfaring Stanger (Tierney Sutton Band)
11. Oh Shenandoah/The Water is Wide (Tierney Sutton Band)
12. Vindarna Sucka Uti Skogarna (Alan Pasqua)
13. Grace (Alan Pasqua)
To purchase "A Year with BFM Jazz 2011," click here.
About BFM JAZZ
BFM JAZZ was formed in 2010 by leading independent digital distribution company, BFM Digital, as a place where jazz artists can freely explore their creativity and share their vision with existing fans as well as those to come. BFM JAZZ is dedicated to artists who express their distinct, authentic voices and the fans who not only care about the music, but also appreciate the musicians who create it. The artists of BFM JAZZ are well-established, masters of their craft who have toured and recorded with their own bands in addition to lending their prominent voices to hundreds of pop, rock, jazz and soundtrack recordings in the course of several decades.
About BFM Digital, Inc.
BFM Digital is a global digital music company committed to serving the independent music community and delivering quality music, spoken word and video content to leading online retailers worldwide. Representing a diverse catalog of indie labels, artists and publishers, BFM distributes to all of the major music services including iTunes, Amazon, Rhapsody, eMusic, Napster, Walmart, Nokia and many more. With an unparalleled commitment to personalized service, BFM works closely with their content providers from around the world to ensure maximum exposure of their catalog by customizing marketing efforts and building strong relationships with BFM's digital store partners. For more information, please visit http://www.bfmdigital.com
###