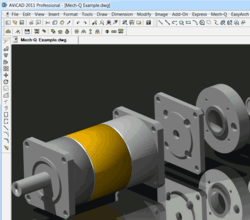 We stress that AViCAD is designed to tackle any type of project whether it be 2D or 3D - easily and efficiently.
Bend, OR (PRWEB) November 30, 2011
Today CADavenue announced that their AViCAD Plant and Piping Suite will now contain both 2D and 3D functionality within their CAD software.
AViCAD is a CAD package which includes a full drawing application plus other productivity tools including a Plant and Piping Suite.
Director Victor Abella states "AViCAD is a self contained CAD System that will fit well into any type of office. Our main intent with AViCAD was to provide all the necessary tools to get the job done right."
When using the Plant and Piping tools within AViCAD users now have the ability to choose whether an object is created in 2D or 3D. Supported 3D module s include Piping, Ducting, Structural and Mechanical. To activate the 3D functionality a toggle is provided within the Plant and Piping module.
Victor adds "We have assembled this CAD package with some of the best engineering and architecture tools available. We always stress that AViCAD is designed to tackle any type of project whether it be 2D or 3D - easily and efficiently."
After an 3D object is created, AViCAD users also have the option to either shade or render their drawing using tools within the software. AViCAD can illuminate the surfaces of their model using multiple light sources in order to help users create effective professional 3D presentations.
Additionally AViCAD can assign material properties to entities in order to enhance their appearance. Custom renderings can also be achieved using realistic backdrops. Optionally AViCAD can export models into Google Earth if needed.
Wire frame and hidden line removal are also available within AViCAD. Three-dimensional drawings can be viewed by rotating the view in real time (called 3D orbit) or by using preset views. By setting up Cameras and targets parallel or visual perspective views can be obtained
About AViCAD
AViCAD is powered by the IntelliCAD Engine. Regular update and patches are available at AViCAD.com. AViCAD is Windows 7, Windows Vista and Windows XP full compatible. A 30-day trial is available at
About CADavenue
CADavenue clients are involved in hydro power, food processing, aquaculture, petrochemical, biotechnology, treatment plants, heavy industry, marine, mining, military, pharmaceutical, pulp & paper, energy generation, snow making plants and various other related markets.
For additional information about AViCAD and their Plant & Piping Suite, visit CADavenue.com on the Web at http://www.cadavenue.com or contact:
Erik Zetterberg
Tel: (888) 271-7121,
sales(at)avicad(dot)com
###