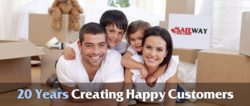 The holiday season is a busy time of year for most people, but with a little knowledge and preparation a holiday season move doesn't have to be a stressful time.
EDMONTON, Alberta (PRWEB) November 30, 2011
Andy Mann, President of Edmonton moving company A Safeway Moving says, "The holiday season is a busy time of year for most people, but with a little knowledge and preparation a holiday season move doesn't have to be a stressful time. To help out we asked our staff for tips they've gained over the last 20 years and put together a 'to-do list' for families before, during and after their move."
The list tackles obstacles ranging from cold weather to home-sickness and gift packing.
Before the move:

Get the family involved in all-possible decisions. Knowing how things will look when you get to your new place will soothe everyone's souls. If possible, take pictures of the family's new house, of the children's new school, and any other venues they'll be associated with. Show them to the whole family and talk about them to get them thinking about the 'new' rather than the 'old'.
Food is half of Christmas fun. If applicable, research a good restaurant that would work well for a holiday dinner on the road. If necessary, book a reservation.
Buy holiday presents in advance. To avoid having to pack them you can purchase them online and have them delivered at your new place so they'll work as an expectation builder.
Buy easy-to-install Christmas decorations and pack them last along with some traditional ones so they're easy to find. Make sure to mark the box well.
Check the weather. Most of the activities you plan during your move will be affected by the weather. Don't pack away all your warm clothes.
Let the kids know Santa will find them anywhere in the world.
During the move:
Keep up the holiday spirit in practical ways. Put up some decorations in your car or even on your luggage (if not driving) and plan on a couple of Christmas-related activities that could be done anywhere.
Play holiday music. But make sure it's the kind everyone can enjoy.
Stop at some point during Christmas day. You can either visit with relatives or have dinner at that restaurant where you booked a reservation along the road. Make sure you stop to celebrate this day so specific memories are easier to make.
Give the move a "vacation" tone. There are few people who don't like "vacations." Invest a bit on making the trip appealing by including visits to landmarks and attractions along the road.
After the move:
Decorate your new place with easy-to-install Christmas decorations (those you packed last and are now handy). Make sure you also include familiar ornaments that remind everybody of the concept of "home" and what it involves.
Add relevance to this milestone in the family's life by starting a new Christmas tradition that's fun for everyone.
Since cooking will probably be out of the question, allow everyone to indulge in the pleasure of Christmas food (again) by having dinner at a restaurant in their new town. If you are feeling adventurous, skip the reservation and walk around town to find it. Look for restaurants that are busy.
About A Safeway Moving
A Safeway Moving was founded in Edmonton, Alberta, January 1, 1990, when Andy Mann felt there was a need for a company that truly cared about their clients. Since then, they have invested heavily in training their management team and moving staff to offer the best possible customer service. A Safeway Moving is A+ rated by the Better Business Bureau.
Additional information about A Safeway Moving is available at http://www.safewaymoving.ca
###