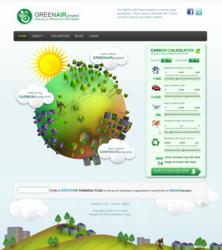 We all should make a difference with our CO2 emissions, now we all can.
Orlando, FL (PRWEB) November 30, 2011
Green Air Project, Inc, (GAP) a Florida profitless corporation, announces today the official launch of greenairproject.org, an all encompassing portal for environmentally conscious people and corporations. Centered on the premise of "Making a Difference Affordable," the site furthers the Green Air Project's mission to reduce carbon emissions by planting trees.
The newly launched site features an industry first transparency tool in the form of a public verification code database. Green Air Project Chief Architect Nayte Carrick comments that, "this verification code provides a huge level of credibility for our participants, and offers a level of transparency not often seen in social change organizations."
The GAP site also features a robust personal carbon calculator and makes strong use of easy to understand infographs. Visitors to the website will find it easy to calculate their carbon footprint, learn more about GAP, and become involved with the organization.
"The goal of the site is to communicate Green Air Project's mission in a highly intuitive, yet entertaining format. The site packs a huge amount of information, but it's fun to explore," commented Meg Weathersby, Marketing Coordinator for Green Air Project.
Green Air Project itself is a dynamic social change organization that enables individuals and businesses reduce their harsh impact on the environment cost effectively. GAP does this by providing a model of combined positive net effect that brings an economy of scale to social change.
For more information on the Green Air Project, visit http://www.greenairproject.org. You can also find GAP on Facebook and Twitter.
###