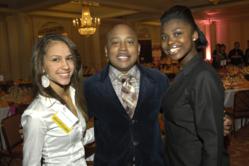 Boston, Mass. (PRWEB) November 30, 2011
The California-based not-for-profit BUILD (http://www.BUILD.org) officially launched in Boston in September with an inaugural class of 89 ninth grade students at four partners in the Boston Public Schools: Another Course to College in Brighton, Community Academy of Science and Health (CASH) in Dorchester, Charlestown High in Charlestown, and Jeremiah E. Burke High in Dorchester.
The students have already started working toward their entrepreneurial aspirations by vetting business ideas and receiving training in business fundamentals. Student businesses are also paired up with mentors from the Boston community who advise them on their planning and help prepare them to pitch their ideas to Venture Capital advisors who will fund their start-ups.
Nationwide, BUILD currently supports more than 70 student-operated business ventures, ranging from apparel companies to eco-friendly shoe cleaner to customizable iPhone and iPod accessories.
Once Boston students have finished their planning phase, they will join BUILD's Youth Business Incubator, scheduled to open in Fall 2012.
ABOUT BUILD:
Founded in 1999, BUILD's mission is to use entrepreneurship to excite and propel disengaged, low-income students through high school to college success. BUILD believes that the power of student ideas in action drives youth to reach their fullest potential in school and beyond. The four-year high school program offers a unique blend of entrepreneurship, academics, and personal support that attracts and motivates many students who are otherwise at high risk of failing classes and dropping out of high school.
BUILD currently serves 700 high school students at programs located in East Palo Alto and Oakland, CA; Washington DC; and Boston, MA. For more information see: http://www.build.org.
Media Contacts:
Ayele Shakur, Regional Executive Director, 617-510-2204 or ashakur(at)build(dot)org
Rod Hsiao, Director of Strategic Operations, 650-631-4994 or rod(at)build(dot)org
###