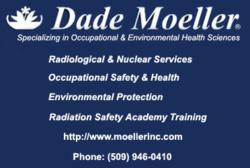 Richland, WA (PRWEB) November 30, 2011
Radiation safety firm Dade Moeller today announces that its already-impressive cadre of Certified Health Physicists (CHPs) [radiation protection specialists] has expanded by one, for a new total of 36 CHPs. Dade Moeller is well known in the radiation safety field, employing more CHPs than any other private company in the United States. Joel D. Arana is the company's newest CHP.
Arana, a full-time Dade Moeller employee since 2003, successfully passed Parts I and II of the certification exam administered by the American Board of Health Physics in June. The annual exam is known as one of the most difficult certification tests, and Part II can be taken only after an applicant already has demonstrated at least six years of professional experience in health physics. Very few applicants attempt and successfully complete both parts of the exam,which are administered on the same day.
Arana works at Dade Moeller's Richland, Wash., headquarters office and has been a resident of the area for 13 years. He currently manages the company's Radiation Projects Division and is a manager on the Dose Reconstruction project supporting the National Institute for Occupational Safety and Health. He oversees and coordinates the day-to-day activities of a number of senior health physicists who support diverse contracts ranging from dose reconstruction, training U.S. Customs and Border Protection agents in the detection and identification of radioactive and nuclear materials, and providing support to the U.S. Nuclear Regulatory Commission in revising regulatory documents, including guidance. Prior to this position, Arana was the Environmental, Safety, Health, and Quality Services Division manager at Dade Moeller, overseeing the work of industrial hygienists, safety professionals, and health physicists performing numerous tasks for governmental and commercial clients.
ABOUT DADE MOELLER: Dade Moeller is a nationally recognized firm providing professional and technical services to federal, state, and commercial clients in support of nuclear services, radiological services, and environmental operations. The company specializes in radiation protection, environmental protection, occupational safety, and training. Founded in 1994, the Company upholds the legacy of Dr. Dade W. Moeller, a premier scientist and educator in the fields of health physics and environmental health.
###