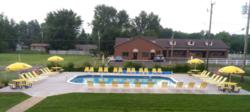 This was my first time at the KOA expo and I have to say it was an absolute pleasure to be around such an enthusiastic, fun, smart group of people. I am absolutely looking forward to next year's show - Chris Lopez, ParknPool Account Manager
Lexington, VA (PRWEB) November 30, 2011
Nearly 500 franchisee representatives from across the 475-member chain attended Kampground of America's (KOA) annual convention held November 6th through the 9th at the South Point Hotel and Casino in Las Vegas, Nevada. ParknPool has attended this KOA event for the past 3 years and has been supplying a large majority of KOA campgrounds for the same length of time. "ParknPool was presented an opportunity to be a corporate supplier for KOA in May 2008. Since then, it has been a great success for both ParknPool and KOA. We have the opportunity to interact with Kampgrounds, conversing about future business opportunities and past experiences. As always, it is great to hear what each property has to say. We get to meet each owner and talk on a personal level face to face," stated Tammy Bryant, ParknPool Account Manager.
ParknPool is the leading online supplier of commercial outdoor furniture and site amenities such as picnic tables, trash receptacles, campground grills and fire rings. They proudly support the efforts of the KOA Corporation for their commitment to giving back to the community by attending their annual convention and supplying them with the site amenities that are needed to enhance their outdoor recreational areas.
Kampgrounds of America has been providing quality family camping to travelers from around the world for the past 48 years. In those nearly five decades, the familiar yellow KOA sign has welcomed millions of campers to the 475 KOA Kampground locations throughout the United States and Canada, equipped with the best in commercial outdoor furniture. ParknPool is excited about their participation with KOA and the role it plays in fulfilling the American dream - the freedom to travel anywhere you want, anytime you want.
The campgrounds that now fly the yellow KOA flag have earned that right every day by providing campers a clean, safe, affordable and fun place to relax. Campers know that when they see the KOA flag, they can count on getting the one-of-a-kind camping experience that only KOA offers. ParknPool recognizes and shares KOA's desire to give great service and commitment; it's that same service that has put ParknPool leaps and bounds above its competitors.
About ParknPool Corporation:
ParknPool is Veteran Owned SBE/WBE Company and is the leading online supplier of commercial outdoor furniture and site amenities such as picnic tables, trash receptacles, park benches and bleachers. ParknPool was begun in 1998 in Orlando, FL and moved their headquarters to Lexington, VA in 2005.
###