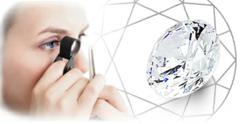 "We are immensely pleased with these results," says Jonathan, Director of Brilliance.com. "It's been an excellent year for us so far."
(PRWEB) November 30, 2011
Florida-based company Brilliance.com, one of America's leading loose diamond e-tailers, is pleased to announce that its record setting trend continues with a 50% increase in sales owed to the recently-concluded Thanksgiving weekend sale.
Brilliance.com is a privately held company with sales north of $25 million each year. Another successful holiday campaign has brought in significant profits to the company, whose year to date sales are now up by 50%.
"We are immensely pleased with these results," says Jonathan, Director of Brilliance.com "It's been an excellent year for us so far."
He credits these results to Brilliance's first-rate products and outstanding customer service. "The jewelry offered on the website is of the finest craftsmanship and quality. Add that to the smoothest, best customer experience one will ever receive when they shop at the website and the result is instant marketing gold."
Brilliance.com is dedicated to pleasing their clients, and maintains a commitment to flexibility and speed. Because the jewelry casting is done on the site's premises, custom rings are delivered in as little as 3-4 days! Turnaround time on most other companies ranges from 6-9 weeks, all the way up to 6 months.
In another week, the website will be dropping a new promotional code, so potential diamond buyers and enthusiasts are advised to stay tuned.
###