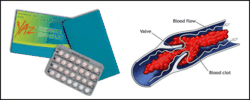 An Estimated 7000 lawsuits have already been filed, and more being filed daily.
Las Vegas, NV (PRWEB) November 30, 2011
There is a lot of bits and pieces of information regarding the Yaz Lawsuit on the internet. ListMyLawyer.com has made a concentrated effort to compile this information from various attorney and court websites into one easy to understand page.
Yaz is a birth control pill that has been allegedly linked to many dangerous side effects and has come under heavy legal fire over the past 2 years. Many women have been diagnosed with several diseases and disorders, and attorneys from several states feel they have traced the cause back to their use of the Yaz birth control pill.
What is Yaz Supposed to Do?
The Yaz pill is first and foremost used as an oral contraceptive to help prevent pregnancy. The pill prevents ovulation, which makes it very hard for sperm to ever reach the uterus. Yaz is made with the drugs Drospirenone and Ethinyl Estradiol. These drugs bring about changes in the cervical and uterine lining. This is what makes it much harder for the sperm to enter. Yaz claims to be 97% effective in preventing unwanted pregnancy.
These are the alleged side effects that have been effecting woman all over the country and causing them to file lawsuits:
*Deep Vein Thrombosis - When the veins develop blood clots that clogs circulation through the body.
*Hyperkalemia - Condition that is caused by having very high/harmful amounts of plasma in the blood stream.
*Pulmonary Embolism - Blood clots that develop in the lungs.
*Breast Lumps - Tumors that could lead to breast cancer.
*Gallbladder Function - Many woman have developed damage to their gallbladder along with other digestive problems.
These side effects are extremely dangerous and in many cases can cause problems that end up costing a life. Kidney damage, Liver damage, Stroke, and Heart attack are just a few of the many problems that can arise from these side effects. Those that have experienced any out of the ordinary health issues can contact a doctor immediately and get checked out. If it is found that Yaz has caused these effects, compensation may be granted.
Who Makes Yaz?
Yaz was developed and produced in 2001 by Bertex Laboratories. At the time they referred to it as Yasmin. In 2006, a company known as BHP (Bayer HealthCare Pharmaceuticals) and changed the name to Yaz. BHP participates global in fields such as Diagnostic Imagining, Neurology, Oncology, and many more. They are considered a global giant and are the main focus in lawsuits that are being filed. BHP as a company is said to be worth in the billions of dollars, but speculation is that the Yaz lawsuit (when this is all said and done) could still cripple this giant because of the sheer number of cases and publicity.
ListMyLawyer.com estimates that 7,000 lawsuits have already been filed, and more are being filed daily.
There are options for those Women affected:
If one feels that Yaz is the cause of their health issues, that person has options to seek legal counsel. First, find out all the current information about the situation by visiting the Yaz Lawsuit page. This page has up to date information on what is going on with the Yaz Lawsuit.
If one feels they wish to seek legal recourse, they can simple visit the Yaz Injury Legal Center and fill out some very simple information. A lawyer will then contact them and see what can be done to help them receive compensation, if and when it is granted by the courts.
# # #