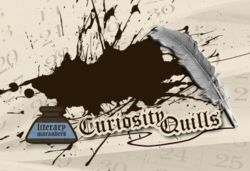 "Rod's tale-spinning experience from his graphic novel and comic book years is evident. His writing is funny, gripping, and evocative - qualities that I'm confident will appeal to broad audiences."
Leesburg, VA (PRWEB) November 30, 2011
Another prolific author joins the Curiosity Quills Press catalogue! The CQ team is excited to announce a three-book deal author and illustrator Rod Kierkegaard, Jr., bringing several new properties to their readers:
1. The Department of Magic: It's hate at first sight. Jasmine Farah and Rocco di Angelo compete for the same job in a dusty office of a secret Federal agency. When their new boss is murdered, Jasmine and Rocco plunge into a nightmare gallop through a world of ghosts, spooks, vampires, demons, and Voodoo gods. With a magical cast of characters and a wry insider's view of the Federal government, here at last is a Harry Potter for grownups.
2. The God Particle: Ricardo Alomar's four best friends are discovered dead at the launch of their high-tech start-up company. The police can find no cause for their mysterious deaths, but as their bodies start disappearing from the morgue, Ricardo is drawn into the investigation of his friends' strange behavior and their even stranger invention: A kind of time-displacement generator utilizing the Higgs boson — the so-called "God Particle".
3. Family Cursemas (Megamillionaire Murders, Vol. 1): When the wealthy Goodman family assembles for its gloomy annual holiday reunion in their divorced mother's crumbling mansion, Holly Singletary is pressed into service to help cater the Christmas Eve dinner. When "the storm of the century" hits, the attendees have more than a blackout to worry about. Someone – or something – is killing off the Goodman family one by one. Only Holly can solve the mystery of the murderer's identity before her first-grade sweetheart becomes the final victim…
Operations director Eugene Teplitsky has high hopes for Mr. Kierkegaard's literary works:
"Rod's tale-spinning experience from his graphic novel and comic book years is evident. His writing is funny, gripping, and evocative," Eugene explains. "Qualities that I'm confident will appeal to broad audiences."
On the marketing side, Lisa Gus had this to say about the new properties:
"When I picked up my query copy of Department of Magic, I was hooked - throughout all his books, Kierkegaard does an excellent job juggling complex characters and situations. We look forward to introducing his work to our readers."
The trio of novels is professionally edited by another Curiosity Quills Press author, Vicki Keire, whose experience as an English literature and writing professor at a large university shines through the trim and polish of Kierkegaard's manuscripts.
The new properties are scheduled to make an appearance starting with Family Cursemas, appropriately, this Christmas season.
About Rod Kierkegaard, Jr.
Rod Kierkegaard, Jr is a writer and cartoonist best known in the US for his comic strip, "Rock Opera", which ran as a regular feature in Heavy Metal Magazine during the 1980s.
He is the author of two French graphic novel collections, "Stars Massacre", (released in the US as "Shooting Stars") and "Rock Monstres", both published by Editions Albin Michel, Paris. His first novel, "Obama Jones & The Logic Bomb", is published by Dogma Press.
About Curiosity Quills Press
Curiosity Quills Press (http://curiosityquills.com), launched its independent publishing imprint in June, 2011 by writers, for writers, out of a common frustration with the state of publishing today. Instead of relying on readers to sift through the so-called "Amazon slush-pile", CQ presents a uniformly top-notch level of quality, tastefully curated, hard-hitting storylines, and memorable characters readers won't forget amidst their Kindle downloading sprees.
We know it's hard to stand out from the crowd when it's millions large, but Curiosity Quills Press helps level the playing field through its members' innovative social media approach, a transparent culture, and a deeply passionate team.
# # #