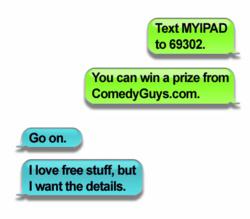 We are Comedy Guys Defensive Driving after all: we're all about taking a court-ordered driving safety course and making it fun.
Dallas / Ft Worth, Texas (PRWEB) November 30, 2011
This month, ComedyGuys.com successfully completed its first-ever contest and prize giveaway. The Get Mobile! Giveaway was announced in April and completed at the very end of October. Contest winners have been contacted, and winners should be announced sometime this week, once certain legal requirements have been satisfied.
Because of the popularity of the contest, ComedyGuys has decided to extend the text messaging portion of the contest indefinitely. The next prize, an AppleTV, will be awarded on December 15, 2011, just in time for the Christmas holidays.
"Our first contest was nothing but fun, and we are Comedy Guys Defensive Driving after all: we're all about taking a court-ordered driving safety course and making it fun. Our contest was so much fun for us and for our defensive driving customers that we wanted to continue it," said ComedyGuys.com co-owner Cash Cooper.
To enter ComedyGuys.com's Text Message Giveaway, text MYIPAD to 69302 before midnight CST on Wednesday, December 14, 2011.
Everyone who sends the text message MYIPAD to 69302 before the December 14 deadline will be entered into a random drawing, the winner of which will win an AppleTV. Anyone who entered the text message component of the Get Mobile! Giveaway is already entered into this giveaway as well, unless they've previously chosen to remove their numbers from eligibility.
Like the Get Mobile! Giveaway, ComedyGuys.com hopes that its Text Message Giveaway will draw attention its popular online defensive driving course.
"We worked hard to make sure that ComedyGuys online traffic school works on most mobile devices, including Apple's widely used iPhone and iPad as well as Google's Android operating system for smart-phones and tablets. A contest based on text messaging seems like a great way to highlight just how mobile our online defensive driving course is," added Cooper.
ABOUT COMEDY GUYS
Comedy Guys is one of the largest Texas defensive driving schools, with both an online defensive driving course and live classes taught by professional comedians in 17 Texas cities. Their corporate office in Dallas has a full-time staff offering fast processing and printing of driving safety certificates and round-the-clock technical support. Using curriculum published by A Safer Driver, Inc., Comedy Guys Defensive Driving courses are state approved to meet Texas court requirements for ticket dismissal.
###