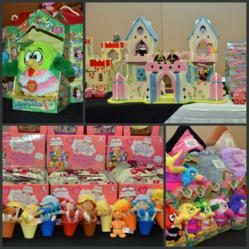 The idea behind Cyber Monday Events is to have one last hurrah before the holiday season, where brands can get their best products into the hands of influential mom bloggers.
Philadelphia, PA (PRWEB) November 30, 2011
On Cyber Monday, 75 influential mom bloggers gathered at Dave & Busters in Plymouth Meeting to socialize and see the most popular holiday toys at an event organized by the Philadelphia Social Media Moms (PSMM).
While celebrities are paid hefty appearance fees to attend openings or endorse products, the BlogHer 2011 Social Media Matters Study shows that bloggers have more influence on purchase decisions than celebrities.
"The idea behind Cyber Monday Events is to have one last hurrah before the holiday season, where brands can get their best products into the hands of influential mom bloggers and in front of their audiences," writes Jo-Lynne Shane, the organizer of PSMM Events and the blogger behind Musings of a Housewife.
The Cyber Monday Party was sponsored by brands such as Little Miss Muffin, Koo Koo Birds, Happy Nappers, Bigjigs Toys, Corolle Dolls, Villeroy & Boch, KaZAM Bikes, ASTRA (American Specialty Toy Retailing Association) and Ohanarama.com.
The mom bloggers in attendence tweeted in order to win thousands of dollars in prizes from sponsors, including Little Miss Muffin Pop N Flip dolls, KooKoo Birds, and a princess castle and King Arthur's castle from Bigjigs North America. Digital impressions on Twitter reached over 2 million during the event, and the impressions will exceed 3 million based on anticipated blog posts.
All of the bloggers went home with a SWAG bag full of toys and lifestyle products from over fifteen additional giveaway sponsors such as Fairy Tales Hair Care, Mabel's Labels, Horizon Dairy, Bai Drinks, Avon, and Suave.
Bai Drinks served up antioxidant coffee/fruit drink samples, and Cradles to Crayons joined the festivities by collecting socks and underwear for kids age 0-15. In addition, women sampled a variety wines in uniquely packaged paint cans created by the local winery Paradocx.
The first annual CyberMondayEvents was a success, and this innovative blogger event will expand to additional cities in 2012 in partnership with local blogging groups.
About Jay at Play:
Jay at Play International was established in 2004 and is a Hong Kong-based company with a showroom in New York City. The company's products are distributed internationally through companies that TV-promote all of their brands. Following the worldwide success of its best-selling MushABellies line, Totally KooKoo and Happy Nappers, Jay at Play is now launching TV campaigns in the U.S. for its Little Miss Muffin brand. Jay at Play International is a subsidiary of Jay Franco & Sons, the industry leader in the Home Furnishing Industry.
About Little Miss Muffin:
Little Miss Muffin arrives to you peeking out of her magical muffin cup. Pop her muffin top, flip the muffin cup inside out, and Little Miss Muffin becomes a soft adorable doll. With sweet expressive faces and bright smiles, there are ten Little Miss Muffin Dolls each with their own flavor to delight kids of all ages. They are available this holiday season exclusively at Toys"R"Us stores and ToysRus.com.
About Philly Social Media Moms:
The Philly Social Media Moms, a.k.a. PSMM, are a highly influential group of women in the greater Philadelphia area who write blogs or run resource websites and are active in social media both locally and nationally. Members range from hobby bloggers writing for fun to nationally recognized probloggers who have made social media their career to small business owners who use their blogs as a platform to connect with their clients and customers. The group includes a Nielsen Power Mom, a Walmart Mom, authors, social media consultants, highly sought after speakers and brand ambassadors.
###