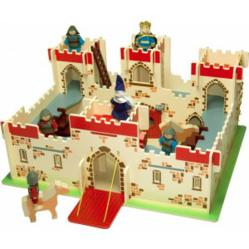 Bigjigs® Toys offers high-quality wooden trains, dollhouses and playsets.
Grantsville, MD (PRWEB) November 30, 2011
Bigjigs® Toys arrived in the U.S. specialty toy market this summer with two of their most popular collections: Bigjigs® Rail and Bigjigs® Heritage Playsets. For the first time, American children can place Bigjigs wooden toys on their holiday gift lists.
Bigjigs® Rail offers one of the most complete wooden railway systems available. With a broad range of wooden trains, tracks, sets, train tables, and battery operated engines, it's the perfect choice for any wooden railway collection. Easy-to-assemble and instantly captivating, these classic toys encourage curiosity, adventure and creativity in aspiring engineers aged 3 years and up.
There's even a pink wooden train engine as well as a princess train for girls who want to play along. The Princess Train is the only pink wooden train of its kind. An ideal first train set, it contains a chunky engine and three detailed royal carriages, which attach using a magnetic system - perfect for little hands to use! Like all the Bigjigs® wooden trains, it can be used with any wooden railway system.
The Bigjigs® Heritage Playsets collection offers handsome wooden play worlds in a box, with eleven different themes including doll houses, fairy tale castles, wild animal parks and much more. Each colorful, easy-to-assemble playset is complete with the figures, vehicles or animals needed to inspire the imaginations of children ages 3 years and up.
While girls love the Pink Princess Palace and Rose Cottage Dollhouse, Bigjigs® understands that boys enjoy imaginative playsets as well. The Bigjigs® Heritage Playsets collection includes play words that appeal to boys' love of knights, dinosaurs, cars and animals.
King Arthur's Castle is a standout piece in the collection. The king, his knights and even Merlin himself appear within this wooden Camelot, which comes complete with battlements, drop down drawbridge and there is even a dungeon to lock up any captured enemy.
The Bigjigs Rail® and Bigjigs® Heritage Playsets collections are available for sale online and in specialty toy retailers this holiday season.
About Bigjigs®:
Established in 1985, Bigjigs® Toys is a family business with a passion for good quality wooden toys. Over the last 25 years, we have grown into an extended Bigjigs family through a team of dedicated, knowledgable staff. Our range includes the best selling Bigjigs® Rail range and the fantastic Bigjigs® Heritage Playsets collection.
###