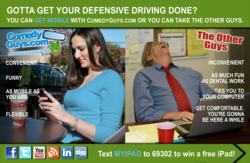 Getting a ticket is a real drag, but the Comedy Guys course actually made the process really fun.
Dallas/Fort Worth, TX (PRWEB) November 30, 2011
Comedy Guys Defensive Driving created the Get Mobile! Giveaway to publicize the mobile versatility of its online defensive driving course. Earlier this year, the online driving safety course was reformatted and reprogrammed to work more easily on mobile devices such as Apple's iPhone and iPad and Google's Android operating system used on smart phones and tablets.
The contest officially began on May 1 and ended at midnight on October 30.
THREE WAYS TO WIN
The Get Mobile! Giveaway was structured to give contestants three ways to enter and win one of three Apple iPads offered as prizes. Two of these prizes were awarded by random drawing among entrants, and the third prize was decided by popular vote.
Though being a Comedy Guys customer was not required to enter the contest, all three winners of an Apple iPad 2 have taken the Comedy Guys Defensive Driving course, either online or at one of the Comedy Guys live class locations across Texas.
The simplest way to enter the contest was by texting MYIPAD to 69302. Over 500 people entered the contest this way, and a random drawing among those people awarded the Apple iPad 2 to William Noyer of Killeen, who had taken the Comedy Guys Defensive Driving course online.
He had this to say about the Comedy Guys' online defensive driving course: "I used both my computer at home and my iPhone to complete this course. It was easy, and I could stop at any time and come back to it, which made it so much more convenient. I would recommend these guys to any of my friends in need of an insurance break or trying to get a ticket off of their record."
The heart of the contest involved people registering at ComedyGuys.com and submitting their funny caption to the contest photograph. Between May 1 and July 31, 112 people submitted their captions. Beginning August 1, people were asked to register for the contest and vote for their favorite caption as often as once per day until the contest ended on October 30.
The caption that received the most votes was submitted by Shaley Lucas of Coppell. She had taken a live Comedy Guys class in Arlington with defensive driving instructor Becky Jane Romine.
After being informed that she'd won, Lucas had the following things to say about the course: "I have and will continue to highly recommend using the Comedy Guys for a defensive driving course.… The time flew by and it didn't feel like a classroom at all.… Getting a ticket is a real drag, but the Comedy Guys course actually made the process really fun."
By registering and voting for a favorite caption, people were actually entering the third component of the Get Mobile! Giveaway. The email addresses of everyone who registered to vote were entered into a random drawing to win the third Apple iPad 2. This drawing was won by John Lovell of Dallas.
A fourth prize, an Apple TV, was offered as a consolation prize by a random drawing among everyone who submitted a caption to the contest photo. The winner of this part of the contest has yet to respond to email contact from ComedyGuys.com, but attempts to make contact continue.
Because of the fun and success of the contest, ComedyGuys has decided to create the Text Message Giveaway and extend the prizes through December and into 2012. The next prize, an AppleTV, will be awarded on December 15, 2011.
For a chance to win, text MYIPAD to 69302 before midnight CST on Wednesday, December 14, 2011.
Everyone who sends the text message MYIPAD to 69302 before the deadline will be entered into a random drawing for the AppleTV. Anyone who entered the text message component of the Get Mobile! Giveaway is already entered into this giveaway as well, unless they've previously chosen to remove their numbers from eligibility.
ABOUT COMEDY GUYS
One of the largest defensive driving schools in Texas, ComedyGuys.com offers both a defensive driving course online and live classes taught by professional comedians. Unlike many of their competitors, Comedy Guys maintains full-time staff at their corporate office, offering round-the-clock technical support and fast processing and printing of driving safety certificates.
###