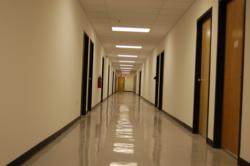 Clients can be confident that Cavern Technologies is operating in a transparent and professional manner consistent with the highest control guidelines and standards in the data center industry
Lenexa, Kansas (PRWEB) December 12, 2011
Cavern Technologies, a leading provider of mission critical data center solutions, in unique subsurface space designed for security and energy efficiency, located 15 minutes from downtown Kansas City in Lenexa, Kansas, is pleased to announce they have successfully completed the American Institute of Certified Public Accounts (AICPA) the Statement on Standards for Attestation Engagements 16 Type II, otherwise known as SSAE 16 Type II audit for its data center in the Kansas City Metropolitan Area. This extensive audit was conducted by Mayer Hoffman McCann, an Independent CPA Firm.
SSAE 16 replaced the Statement on Auditing Standards No. 70 (SAS 70) effective June 15, 2011. Widely accepted as the more rigorous and comprehensive standard, there are two types of SSAE 16 audits. A Type I audit is a point-in-time audit, while a Type II audit is more exhaustive and includes in-depth testing of controls and practices over a minimum six-month period. Cavern Technologies has completed annual independent third party Type II to demonstrate the operational effectiveness of its quality controls, operational practices, and hosting services while meeting the very latest regulatory requirements for secure data center operations.
In today's global economy, service organizations or service providers must demonstrate that they have adequate controls and safeguards when they host or process data belonging to their customer. " "Passing the SSAE 16 audit demonstrates Cavern Technologies commitment to our current and prospective customers. They can be confident that Cavern Technologies is operating in a transparent and professional manner consistent with the highest control guidelines and standards in the data center industry. " Cavern's President John Clune said in a statement. "Cavern's data center clients may use our SSAE 16 Type II report as a substitute for performing first hand testing in conjunction with Sarbanes-Oxley, HIPAA, or other compliance obligations."
About Cavern Technologies
Cavern Technologies (http://www.caverntechnologies.com) Cavern Technologies specializes in the development, leasing and operation of build-to-suit wholesale data centers, located 125-feet underground in a 3 million square foot facility designed for energy efficiency, housed in an environmentally regulated, secure infrastructure. Cavern Technologies' world-class data center and colocation facility is SSAE 16 Type II and designed to meet the specialized power, cooling and security requirements companies need to house IT systems that support their mission-critical business processes. Cavern provides it tenants with a value proposition focused on minimizing the total cost of ownership of data center infrastructure.
About Mayer Hoffman McCann P.C.
Founded in Kansas City in 1954, Mayer Hoffman McCann P.C. (MHM) is a Top Ten national accounting firm with over offices nationwide and more than 270 shareholders. MHM specializes in attest services for mid-market and growing businesses, not-for-profit organizations and government agencies. Services include financial statement audits of public and private companies, employee benefit plan audits, SSAE 16 audits, reviews, compilations, litigation support and reports on performance of agreed-upon procedures.
Mayer Hoffman McCann P.C.'s expertise can be supplemented with resources available through its close association with CBIZ. A national company, CBIZ offers customized business solutions in such areas as advisory and tax; benefits consulting and administration; human resources; information technology; payroll and valuation. Together, MHM and CBIZ are the 8th largest accounting provider in the country.
###