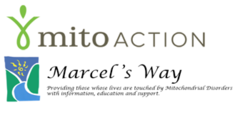 Boston, Massachusetts (PRWEB) December 13, 2011
The Marcel's Way Family Fund has a history of providing financial support to mitochondrial disease patients and families in need. To date, the Marcel's Way Family Fund has awarded more than $150,000 in grants. Through this grant partnership, MitoAction will continue the good work that Marcel's Way started.
"It is exciting to be able to carry forward the Marcel's Way Family Fund as a new program within MitoAction," said Cristy Balcells, MitoAction's executive director. "The idea of offering financial support to those in need aligns well with MitoAction's mission to improve quality of life for all who are affected by mitochondrial disorders. By building on the Marcel's Way Family Fund along with other existing programs, MitoAction's support, education and advocacy efforts will impact even more people."
MitoAction was founded in 2005 by a group of Boston physicians, patients, and parents whose vision was to create a network of support and resources with immediate impact for patients and families living with mitochondrial disease. Since its inception, MitoAction has developed a variety of programs and resources that serve a global community of Mito patients and families, including a guest speaker series offered by teleconference, patient education podcasts, support groups and family socials, and a peer support hotline. For more information, visit http://www.mitoaction.org.
Marcel's Way president Maria Lussier says, "While we are saddened to dissolve Marcel's Way we are excited about the opportunity to pass on these funds as an ongoing program to MitoAction. It has always been our hope that one day the Marcel's Way Family Fund would be able to help Mito families not just in New England but nationally. By making it a part of MitoAction, it will now be possible for this to happen."
Marcel's Way was founded in 2003 by a group of "Mito Mothers" that came together because they saw that families needed information, education, and support to live as normal of life as possible with their newly diagnosed children suffering from mitochondrial disorders. In 2005, Marcel's Way launched the Marcel's Way Family Fund to help families cover the "extra expenses" they faced to care for their children. Grants were made to assist with the high cost of medications, services and medical equipment.
The board of directors of both nonprofits say that they look forward to the future growth of the Marcel's Way Family Fund, and hope the program will help many patients and families in need across the country. The organizations anticipate that the new program will launch mid-2012.
###