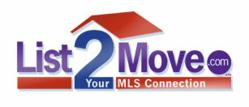 The Internet is changing real estate like it has many other industries, and a broker's action today will determine their survival over the coming years.
Rochester, NY (PRWEB) December 07, 2011
List2Move.com, operated by Flat Fee Central LLC of Fairport, NY, announces the addition of their 10th affiliate this week bringing their Flat Fee MLS network to over 40 cities and towns on the East Coast.
"This is an exciting time for us because the flat fee MLS market is exploding," says Tim Scata, President of List2Move. "The Internet is changing real estate like it has many other industries, and a broker's action today will determine their survival over the coming years." Tim goes on to say, "We are building a network of tech savvy brokers who are proactive and ready to embrace this movement and profit from it, taking control of their future before it's decided for them."
Mike Spafford of Alternatives Realty joins List2Move to exclusively cover the entire state of Vermont. Located in North Clarendon, Mike will be using List2Move's fully automated website technology to accept flat-fee listings to service For Sale By Owner customers who are looking for MLS exposure. Mike will be servicing For Sale By Owner clients in cities and towns across Vermont including Barre, Bennington, Brattleboro, Burlington, Colchester, Essex, Hartford, Milton, and Rutland.
List2Move also recently began offering services in Ithaca NY. For Sale By Owner property owners can now get their property listed on the Ithaca Board of Realtors Multiple Listing Service for a one-time flat-fee and save thousands in commissions. This service is brought to you by Oscar Gile, Licensed Real Estate Broker, who has lived and worked in the Tompkins/Tioga County area for the past 27 years. To learn more about selling For Sale By Owner in Ithaca NY or to contact Oscar, please visit our Ithaca site.
About List2Move
List2Move is technology for the real estate innovator! Founded in Rochester, NY in 2006, List2Move began with the belief that if you gave For Sale By Owners the same tools used by real estate agents and brokers, along with the infrastructure to mange their own listings, they could effectively sell their own homes.
With locations from Vermont to Florida, List2Move is expanding across the country bringing like-minded real estate brokers together to form the nation's largest network of flat fee MLS providers. This recession based real estate market is forcing traditional brokers to look for new ways to capitalize. List2Move solves this problem by bringing for sale by owner sellers and brokers together using technology, thus saving both the homeowner and the broker precious time and money while still creating new valuable relationships.
List2Move allows homeowners to enter the exact data required for their local broker's MLS online, upload their own photos, electronically sign listing agreements and disclosures, and submit payment directly to the broker. All of this can be done from the comfort of their own home. The broker then simply takes the data and inputs it into the MLS. List2Move eliminates the need to send faxes, drive to listing appointments, wait for payments, and struggle with broker website issues.
To see if there is an exclusive List2Move affiliate in your area, visit List2Move at http://www.list2move.com. Licensed professionals interested in bringing List2Move.com to your city, please visit http://www.FlatFeeCentral.com to learn more or call 888-407-4390.
# # #