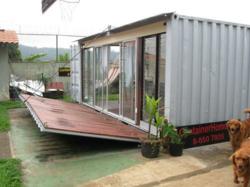 Sicklerville, NJ (PRWEB) December 05, 2011
The book, which took about 2 years to complete, is finally finished and ready for public purchase. Contained within the book is knowledge about features and information regarding "what we did" during the entire process of building, transporting, unloading etc.
Containerhomes.net completed the book with lots of photos and designs to hopefully aid and guide you in the process of furthering your knowledge of the container home industry.
Here is a general outline of what is included in the book:
A brief history of shipping containers
How to buy and purchase a shipping container, the "do's and don'ts"
Inspection, Foundation and Internal Designs
Preparation for painting
Cut outs for areas of the container
Framing cut outs and frame outs
Sealing for water and drips
Windows, Steel bars/Shutters
Locks and security on the home. which is a very valuable source of information
Tasks of Electricity and involvement
Water issues and importance
Wallboard and Insulation tactics
Floor and Deck construction
Bathroom and Kitchen helpful hints
Maintenance
Merging and/or stacking two containers on top or next to one another
The price of the book including taxes and shipping is $37
Pay through PayPal Below at the site:
http://containerhouse.info/containerhomes-net-completes-book/
The book is currently being sold as a PDF file on a CD due to the amount of photos and designs, and will be mailed to you. We are currently setting up a quicker more efficient method, so thank you for your patience ahead of time.
Thank you and enjoy
Jimmy Lee
David Lee
Costa Rica
###