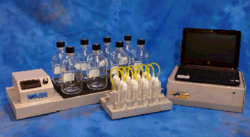 The MPA-200 design allows for easy data collection and user freindly operation with unrivaled accuracy and dependability.
Springdale, Arkansas (PRWEB) December 05, 2011
Challenge Technology, an American-based company, has developed the Methane Potential Analyzer (MPA-200), to provide for the measurement of biogas in anaerobic reaction in laboratory testing. The patented Flow Cell technology, used with this system, has been the choice of academic and industry researchers for the past 21 years.
The MPA-200 will allow the user to monitor and analyze the production of biogas in bench scale reactors, thereby optimizing gas production and allowing for evaluation of environmental and concentration adjustments.
This MPA-200 base system utilizes 8 standard 500mL glass reactors set on a magnetic stirring base, incorporating Rare Earth magnets and stirring bars with Spin Rings. The MPA-200 is expandable to 16 reactors. The system comes complete with computer and preinstalled software for detailed data collection and graphing for precise analysis of methane potential. The unit is durable, with easy setup and operation and quick cleanup. The system is factory calibrated and requires no user calibration.
With 10 times the resolution of other systems currently on the market (.12mL vs. 13mL), the MPA-200 is capable of producing tests of enhanced quality. An inline CO2 stripper is available for methane CO2 ratio evaluation.
# # #