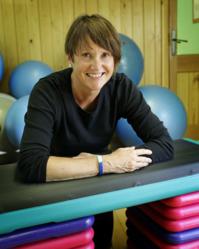 bitesize offers an achievable exercise solution to all office and home workers who are short on time.
(PRWEB) December 04, 2011
Bitesize exercise is a simple fitness app.
Theresa is pleased to announce that Bitesize Exercise is now available as an iphone app.
These quick fitness tips are suitable for everyone and will help to get you started on an achievable fitness routine. A short video clip illustrating the app is available at http://www.bitesize-exercise.com; together with a couple of screen shots from the app. You can also access a list of the exercises as well as short explanations of each one.
Bitesize exercise offers quick, effective and achievable exercises that can be done at the desk or in the home. No special equipment or clothing is required. It was compiled by Theresa Wright, an experienced Personal Trainer and Sports' Massage Practitioner, based in Newbury Berkshire UK.
To get you started go to YouTube http://www.youtube.com/user/bitesizeexercise? feature=mhum where you will be able to download 5 free exercises as a taster. Theresa hopes that this introduction to the ease and simplicity of Bitesize exercise will spur you on to a fitter and thus, healthier lifestyle.
Bitesize exercise is a fitness app showing clear video clips of each exercise with an English voice over. The models used are ordinary people, not fitness experts, wearing ordinary clothing performing the exercises at a desk, table, in the kitchen, using stairs and on the floor, effectively making a gym for home. A beginner to fitness would feel comfortable performing these exercises. Theresa feels that Bitesize exercise will inspire many people to start a fitness regime who would otherwise avoid all exercise.
The Bitesize Exercise Fitness App has no complicated profiles to be filled in or programmes to chose – just get started. A short intro video and Theresa's resume begin the app. The exercises are divided into 7 categories – Knees & Ankles, Hips, Abdominals, Shoulders, Arms & Fingers, Neck and Cardio. The categories can be reached by tapping the relevant body part on the figure on the right hand side of the screen. There is also a drop down list beside the figure which also accesses the Exercise List. Each fitness section has up to 6 exercises – again reached by tapping the relevant icon. A short video clip illustrates the exercise which has an English spoken voice over. Underneath the clip a short list of watch points comes up on the screen. Play the video clip which is nice and clear and simple to follow lasting about 20 seconds. The watch point list comes up again after the clip. Bitesize exercise truly describes the app; attainable, achievable and quick fitness exercises that everyone can perform.
Theresa Wright, 59, married with three sons in their twenties, lives in Newbury Berkshire UK. Theresa has her own private gym and clinic where she trains clients of all ages and abilities. She also treats postural imbalances, skeletal muscle injuries and post operative clients. She offers Visceral Massage and Manipulation for stomach disorders coupled with sound nutritional advice. Theresa has been working in the fitness industry for seven years and has been interested in fitness all her adult life. She has compiled Bitesize-exercise from her extensive bank of tips for exercise, using her sound knowledge of the human body and functional fitness to offer a programme that will appeal to beginners and experienced alike.
Bitesize-Exercise is Trade Mark protected.
###